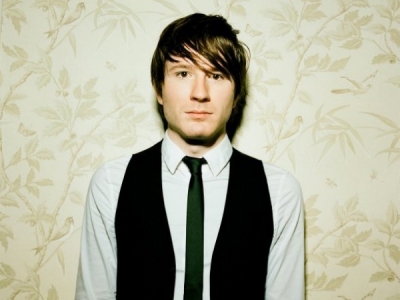 Widely known for his breakthrough single, Fireflies, Owl City has mentioned the possibility of recording a "screamo rock" album in the future. The electronica act, whose real name is Adam Young, told BBC Radio 1 Newsbeat that he grew up wanting to do nothing else except that. I haven't had a chance to do it, and do it right. Young is releasing his fourth album on Aug. 21 titled The Midsummer Station, featuring collaborations with Carly Rae Jepsen, Katy Perry/Kelly Clarkson producer Dr. Luke, and Rihanna/Ne-Yo co-writing team Stargate. Growing up I was really into the whole underground, obscure, artsy, heavy, screamo, chaotic, angry angst music. I love it. That was my thing " that's what I identified with.
Young expressed concern with whether or not his fans would take to the new project and the drastic change in style. I feel like I could do it right. Do it all myself and record it all and make it sound good. It's tempting. It might go over the heads of my fans but it might open some new doors and that's what it's all about. Every now and again I need to put on one of my old records [that] make me feel that same thing. There's a place for that.
There's no word yet on whether the Owatonna, Minnesota multi-instrumentalist would pull a Snoop Lion and take on a fiercer animal name (though our vote is for ˜Pterodactyl Town). You can watch Owl City and Carly Rae Jepsen's video for Good Time below.
More like this:
I wasn't sure what to expect as I headed to Owl City's June 26th show at Boston's House of Blues. After all, Adam Young's electropop project is famous for earning a 1/10 from those notorious indie tastemakers over at Pitchfork for sounding too similar to The Postal Service. How good could his show be? Well, pretty damn good, actually, as a sea of poster-wielding fans in homemade tee shirts"a level of fandom formerly reserved for JoBros fanatics and Beliebers"will attest.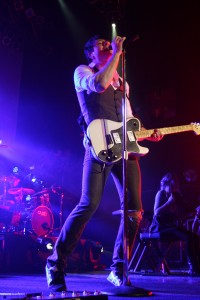 Seattle's Unwed Sailor kicked off the evening with their triumphant instrumental rock. For those who haven't yet heard from them, picture a more uplifting version of Minus the Bear, then subtract the vocals and add insistent cymbal crashes. The four-piece elicited cheers from a crowd who showed up to hear a fun and dance-y electropop outfit, which in itself is a testament to their skill. Unwed Sailor was followed by singer-songwriter Mat Kearney, whose name you probably know from catchy, television drama-ready hits like Undeniable and Nothing Left to Lose. Kearney drew heavily from his smash 2006 album Nothing Left to Lose as well as his 2009 follow-up City of Black and White, but closed out his set with Hey Mama, the foot-stomping, hand-clapping romp of a first single from his upcoming album Young Love.
And then, at ten minutes to 9:00, Owl City took the stage to shrieks and thunderous applause. Here was the moment of truth: Would an artist who's famous for largely writing and recording his breakout album Ocean Eyes in his parents' Minnesota basement, and is often described as reclusive and press shy be able to wow the audience? Everything I know about him led me to believe he'd pull a Ray LaMontagne and spend the set huddled in a corner of the stage, barely making eye contact with the audience. That all changed the moment Young stepped up to the mic and launched into The Real World, belting out his lyrics while practically attacking his guitar. This was no basement-dwelling hermit, but a rock star who was perfectly at home both playing for and chatting with the sizeable crowd.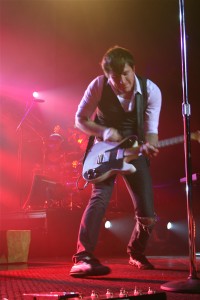 Throughout the course of his set, Young told fans that they were kind, sweet, cozy and very huggable" all terms that could describe Owl City's comfortable, radio-friendly pop. But that's not to say Young's set lacked vigor. He delivered pristine electropop gem after pristine electropop gem to the adoring crowd, and although it was one with a slightly younger mean age than those usually present at the House of Blues, even this jaded, wordly 20-year-old found herself smiling at the unbridled cheer his music inspired.
Perhaps most impressively, Young didn't rely on the runaway success of hits like Hello Seattle or Fireflies to carry him through the evening. He made the ballsy decision to play the former only two songs into his set and unleash the latter with a half hour left to play, letting lesser-known tracks like "Umbrella Beach" and "The Bird and the Worm" stand on their own. The synth master even had a few tricks up his sleeve"during "Alligator Sky," rapper Shawn Chrystopher makes an appearance via some sort of crazy, futuristic hologram projection thingy. I couldn't tell you how it works, but it looked totally awesome.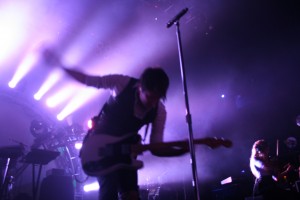 Boston, I kind of have a crush on you, Young joked as he neared the end of his set, a feeling that 90% of the females in attendance (and probably some of the young men as well) certainly reciprocated. But after witnessing the levels of fun and joy Young's music inspired, that adoration seems more than deserved. Those tweens in their homemade shirts are onto something.
Don't miss Owl City when the All Things Bright And Beautiful Tour rolls through your town!