It's difficult to imagine a more poignant moment than when Ricky Skaggs and his band Kentucky Thunder played a moving rendition of "You Can't Shake Jesus," at the recent FloydFest in southern Virginia.
Although the 15,000-plus fans that packed each of the four days of the festival heard from a top-flight roster of artists including Emmylou Harris, Brandi Carlile, the Punch Brothers, Jackson Browne, and others, it was Skaggs' virtuoso playing and heartfelt vocals that enticed concertgoers to stand in the searing sun and cheer, even as FloydFest wound down. Although Skaggs also teamed up with Bruce Hornsby for some power-packed songs, it's difficult to imagine anything more lovely than the set Skaggs and his band played before meeting and greeting fans.
"It's the most unusual gospel record I've ever done," Skaggs told the crowd about Mosaic, the album from which "You Can't Shake Jesus" was taken. "It's not bluegrass and it's not country, but you'll like it. It's good."
Anyone wanting to sum up Skaggs' career and appeal could likely turn to that line for reference. After making a name for himself as a major country star, he moved to bluegrass and even dabbled in other formats with special interest in gospel and Christian-themed songs. The result included 24 singles on Billboard's Top 20, including 12 at #1 and an array of awards and honors, including 14 GRAMMY Awards, eight CMA Awards (including Entertainer of the Year), eight ACM Awards, two Dove Awards and nine ICM (Inspirational Country Music) Awards.

The headliners at this year's FloydFest"including Alison Krauss & Union Station featuring Jerry Douglas, Ricky Skaggs, Brandi Carlile, and the Drive-By Truckers"were  as amazing as you'd expect from internationally known and much-lauded musicians. But the real treat at the 11th Annual FloydFest, a four-day world music festival in Floyd, Virg., was arguably the array of up-and-coming artists certain to burst into prominence not too far into the future.
Amber Rubarth was clearly at the front of that line. Perhaps that's not surprising when you consider she's a fixture on New York's indie scene and has won such accolades as the Grand Prize in NPR's Mountain Stage New Song Contest. Her recent album A Common Case of Disappearing, which features duets with Jason Reeves and Jason Mraz, debuted at No. 13 on iTunes. Watching her spin her musical web of alt-country, folk tunes on various stages at FloydFest, one couldn't help but be struck by her poise and warmth, which translated into her music.
"I was really shy growing up," said Amberth when discussing her set. "Music gave me the outlet to be able to get out my feelings and get out things I wanted to say that were more personal, even if I couldn't say it in a conversation. It's really powerful for me. It's a way of healing, releasing, really."
Those feelings translated to the audience, too, when Rubarth joined the Ivy League Hillbillies set that had nine up-and-coming musicians on stage and when she played her own sets"including a brand new song "The Maiden and the Ram," that got the audience dancing.

Go ahead and call Yonder Mountain String Band a bluegrass group if you want to, but if you take in some of their shows this summer"such as one at FloydFest in Floyd, VA on July 30 or their headlining gig at Red Rocks Ampitheatre in Morrison, CO on Aug. 20"prepare for a surprise.
Not only will the band likely debut some of its new music slated to be released in 2012, but all of their songs will showcase why they are revered as one of the most progressive bluegrass bands out there. Their signature sound not only swirls rock, pop and hints of other genres into the bluegrass mix but the players' expertise have made them a darling of jam band aficionados.
"It's cool there are a lot of other voices [in the] bluegrass world," said bassist Ben Kaufmann. "I feel kind of like [our band is] part of an icebreaker. We've proven you don't need drums and electric amplification to attract a young audience."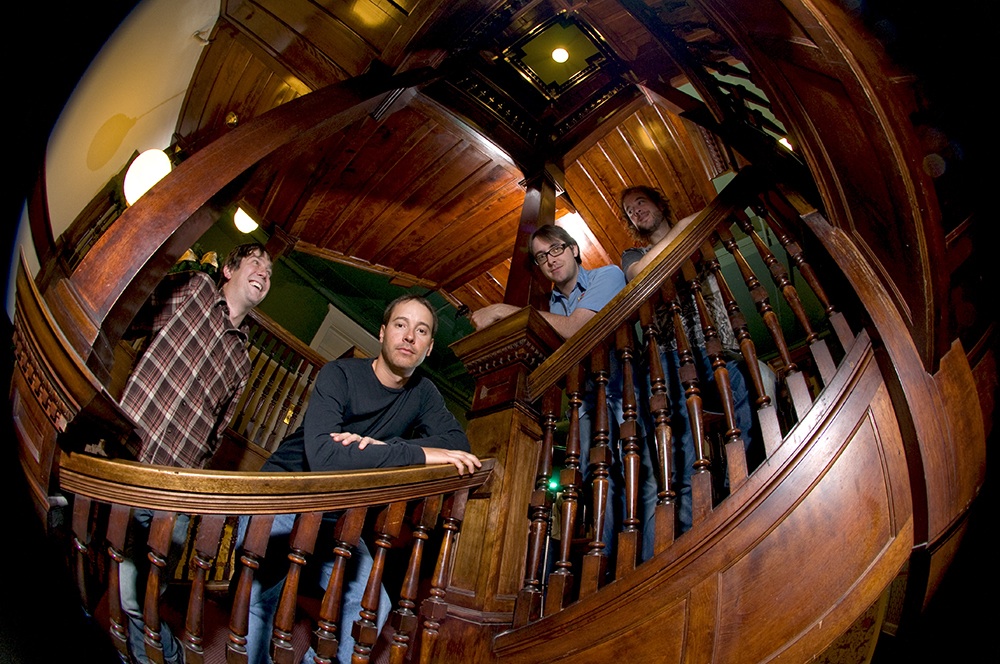 Of course, bluegrass fans know that those who follow the genre are passionate about what constitutes true bluegrass. The father of bluegrass, Bill Monroe, was a strict traditionalist who didn't enjoy any type of variation in the sound. Not so strict is Del McCoury, who was a member of Monroe's band and is now thought of by many as the leader of bluegrass. McCoury has not only championed progressive bluegrass bands but has mixed his own music with other genres including New Orleans' Preservation Hall Jazz Band.
A love for both traditional bluegrass and the new grass movement is what initially brought banjo player Dave Johnston and  Jeff Austin, who plays mandolin in the band, together musically as students in Urbana, IL. Their collaborations continued and expanded after the two moved west and met Kaufmann and guitarist Adam Aijala.
Yonder Mountain String Band, which officially formed in 1998 and was playing legendary venues such as San Francisco's Fillmore within a few years, sees their band as one of the pioneers in further opening up the genre to younger audiences.
"I see us being an important band because we have kind of taken the starch off the collars and church out of the music," said Johnston, noting that although they don't play more pop-oriented bluegrass, they are still fans of that part of the genre. "It's kind of like we have fulfilled an essential need because kids come to see us. Although we're based in bluegrass and new grass, we don't try to limit our sound or what we want to do."
That's one reason younger audience respond to the sound, the band mates say. Pure forms of country, rock and other traditional genres are almost non existent in contemporary music.
"Country isn't one thing, rock isn't one thing, and that's where music is going," said Johnston. "We have existed our entire careers not caring what genre our music is from. We are looking for a blend of genres and experimentation…We aren't looking for hits, we are looking for good songs."
For news about the band, go to their web site.