Every superstar worth his or her weight in durability (See: Cher, all-time queen of the comeback) has been up, has been down, has seen fire, has seen rain, has had one of those full-circle careers that's come around and around again and again. Professional fluctuations is a part of Hollywood life, and those who can weather those particular storms, come out in a better place, because as Kelly Clarkson sang on her recent No. 1 hit, what doesn't kill you makes you stronger, stronger.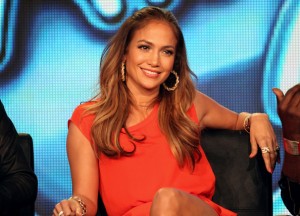 And just how stronger is current comeback queen Jennifer Lopez these days? She may not be quite the tabloid draw she was a decade ago, but if you've watched American Idol during the past two seasons, or heard her 2011 hit "On the Floor" on the radio, on TV, on YouTube or, well, on the floor, you know that she's flexing again.
Forbes magazine just ranked her atop its 2012 Celebrity 100 (up from No. 50 in 2011), which lists the most powerful people in entertainment. With an estimated income of $52 million in the last year, Lopez came in ahead of last year's champ Lady Gaga (No. 5), Oprah Winfrey (No. 2) and Adele (No. 24).
Forbes's criteria for its 2012 appointment: being hotter than the rest (23,000 press mentions, 46 major magazine covers) and most sought after by fans (530 million YouTube views for "On the Floor," 12 million Facebook "likes" and more than 6 million "followers" on Twitter). Not bad for someone who was so over"or so everybody thought"just a few years ago.