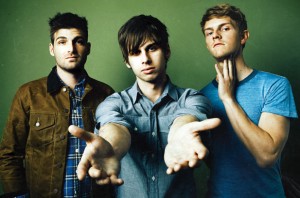 Foster the People have given back to the Los Angeles community in a pretty huge way"and we mean that literally. The trio is responsible for an enormous new mural in downtown LA, which is basically just a giant advertisement for their new album, Supermodel.
Frontman Mark Foster says about the mural,  "Living down here the last four years, I've gotten to be part of a cultural renaissance. I feel like Los Angeles has given us a lot, and we wanted to give something back. There's a lot of people who live down here, who walk past or ride the bus to work past that wall every day. They have no idea who we are, but they're going to be able to see a piece of art that's making their neighborhood more beautiful, even if they never listen to the band."
The band played a free show in front of the mural, which was done by Dutch artist Young & Sick, last Thursday night, and their new music video for "Coming of Age," shows a time-lapse video of the process.
"It happens to be the same art we're putting on our record, but for me it was always something separate from the album itself," notes Foster, "Music is an intangible thing " it travels through the air. But there's something powerful about something you can look at and touch. This was a chance to make something that's going to stand independent of the music that we make."
Check out the mural at 539 S. Los Angeles Street and catch the band on tour this spring.
More like this:
Foster The People Announce North American Tour Dates
Foster The People Announce 2014 Festival Dates
Sound And Vision: Foster the People's Chart Challenge " Is There Life After Pumped Up Kicks?