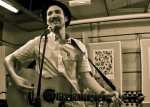 If you like raw rock and roll and long sunny afternoons paired with a little sundown drinking, then you're gonna love
Frank Turner
's signature beer, Believe. Aptly named after his hit track I Still Believe, Frank Turner is proving once again that he's not only a brilliant, humble musician, but he's got a long list of talents to back that up.
Turner began working with the team at Signature Brew back in March, creating a 4.8% Belgian style wheat beer, which is said to be a modern twist on the traditional wheat beer encompassing citrus and orange flavor. Speaking about the experience, Turner said:
Being asked to design a beer was a new one for me, he said. I don't know masses about beer, other than that I like drinking it a whole lot. In the end I learned a lot, had a fun evening getting hammered, and ended up with a beer with my name on the label, which is pretty much the pinnacle of any road-dog's ambitions. I'm very much looking forward to sinking a few with friends after a show.
You can pick up a pack of Believe at Signature Brew's website and view a video of Turner discussing the experience right here.
More like this: