He's back, folks. Inescapable nu-metal menace Fred Durst, infamous frontman of rap-rock group Limp Bizkit"the band that soundtracked the more regrettable and embarrassing moments moments of your angsty middle school years"is in the spotlight once more, and he brought the whole gang with him. Maybe that's why people are actually talking about Bizkit's newest upcoming record, the first in ten years to feature the whole line up. The last album to feature all four original members was Chocolate Starfish and the Hot Dog Flavored Water, historically the only album to put a bad taste in your mouth before you listen to it. Side note: Chocolate Starfish debuted at number 1 on Billboard and sold 1.05 million copies in it's first week. How does that make you feel?
We're not exactly thrilled about Durst's return to the mainstream consciousness. That doesn't mean that we look upon every comeback with scorn! So, to get Durst out of our heads, we're going to be rollin' on to some of our favorite musician's musical returns to form.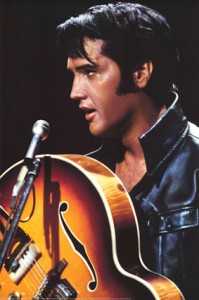 Elvis Presley
The King of Rock 'n' Roll had a storied career but some people don't realize that it came with many ups and downs. Just kidding! Elvis's late career downward spiral is well documented, no need to go into that. Presley had initially come to prominence in the mid '50s with famous gyrating appearances on the Milton Berle Show and Ed Sullivan Show. However, in 1958, Presley was inducted into the armed forces and was on active duty for two years. After his time in the military, Presley began to focus on his burgeoning movie career. Only problem was the movies (and the subsequent music) Presley was putting out during this time received a great deal critical scorn. The lack of quality music and movies being released under his name was beginning to be recognized as sub-par and sales were dropping by the mid '60s as a result. When he finally returned to the stage in 1968, Presley hadn't performed in front of a live audience since 1961. However, that performance"later dubbed the '68 Comeback Special"was broadcaster NBC's highest rated show that season and captured 42% of the viewing audience. The King was back.
Meat Loaf
There has perhaps been no singer better suited to his chosen moniker. The singer, Marvin Lee Aday, made his first mark in the popular consciousness with an appearance in the über-cult hit The Rocky Horror Picture Show. When his record, Bat Out Of Hell, was released in 1977, it became a major hit, selling over 43 million copies. However, the '80s would prove to be unkind to Meat Loaf. During this time, Loaf had a falling out with his writing partner Jim Steinman. Steinman composed nearly all of Meat Loaf's music and in 1983, Meat Loaf released Midnight At The Lost And Found without him. Not only was the record a flop, but two Steinman compositions originally intended for the album were left off. What were they, you ask? One was "Making Love (Out of Nothing At All)" later performed by Air Supply. The other…
Oof.
However, Meat Loaf has since rebounded. After regaining a working relationship with Steinman, Loaf followed up Bat with two Bat Out Of Hell sequels whose combined record sales have topped 14 million.
Carlos Santana
Carlos Santana is currently heralded as a giant of Latin rock and jazz guitar, and rightly so. That's not a position that anyone is trying to dispute"Santana made his mark in the '60s and '70s with a legendary set at Woodstock and the 4x platinum Abraxas from Santana, his band incarnation. However, by the '90s Santana was treading water. However, Clive Davis, head of Artista Records at the time and starmaker that he is, had an idea for Santana. Sign with Columbia Records and produce a record with a few notable pop stars guesting. A Dave Matthews there, a Lauryn Hill there. The result was Supernatural, a record that won nine GRAMMY awards, scored two Billboard Number 1 hit singles and eventually went on to sell 27 million copies worldwide. Here's a sample below in case anyone is wondering what that kind of record would sound like.
Johnny Cash
The Man in Black was not lacking in success before the '90s. Cash had a storied career most artists would envy: meeting with the president, working with some of the most prominent contemporary country musicians of his day and becoming a symbol, synonymous with outlaw culture and being an American Badass. So, after a hard decade in the '80s due to a battle with drug addiction, being unceremoniously dropped from Columbia Records and having been kicked by an ostrich things weren't looking too rosy for Cash. Then he hooked up with super-producer Rick Rubin. At the behest of Rubin, Cash released the first in the series of his American Recordings which would eventually bring Cash to a new audience and the greatest amount of popular and critical acclaim of his career. However, Cash wasn't through with the hard times yet. In 1997, he was diagnosed with Shy-Drager Disease, a form of Parkinson's, a condition left him bed ridden and near-death. So what does Cash do? Record two more records before his passing, including covers of Depeche Mode's "Personal Jesus", U2's "One" and, of course, Nine Inch Nail's "Hurt".
Mariah Carey
Stunningly, beautiful and remarkably talented, Mariah Carey is one of the top selling musicians of all time. Period. Carey dominated the '90s with Number 1 hit after Number 1 hit. In fact, Carey is the only artist to have a Number 1 hit every single year of the 90s. But fate is a fickle bitch. You try to reinvent you image to make rooms for more butterflies and Glitter and what happens? Critical scorn and diminished record sales, that's what. However, her mental health collapse did bring us one of Total Request Live's immortal moments when the singer appeared on the show, distributing popsicles to the audience and wearing an oversized t-shirt (and nothing else) to the chagrin/horror of host Carson Daly.
Following admittance to a care facility, a box office bomb and some of the lowest charting records of her career, Carey made a mid-decade return to the pop world. The release of The Emancipation of Mimi marked a return to form for Carey and the record eventually sold over 12 million copies"single "We Belong Together" was the most successful for Carey until that point. And now with her newborn twins and plans for a new record on the way, Mariah is once again on top of the world.
We're suckers for a good comeback story. Sure, it can be fun to kick 'em while they're down, to snark and make little sarcastic asides. But what's better then seeing your old favorites kicking ass? It just feels good to see some of our old heroes come screaming back into our collective consciousness, guns blazing. Here's hoping that any musician going through a dry spell or a rough patch can break back into the collective consciousness like these performers did.