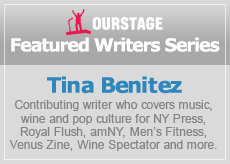 Taxi rides from east to west side; uptown todowntown, overlapping forty- to one-hour set times in Brooklyn and Manhattan, droves lined up to see the next big thing, open bars and deeply-discounted beers"this was the daily agenda for attendees at the 2010 CMJ Music Marathon.
Things moved expeditiously and, for the most part, the tightly-knit sets stayed on schedule from Tuesday through closing in the wee morning hours on Sunday. Wide-eyed by the first day and nearly trudging from venue to venue mid-way through the week, attendees and artists had their work cut out for them. This year, the CMJ Music Marathon was jam-packed with some of the most buzzed-about artists"most from New York"who had more multiple spots than last year, easing some of the timetable anxieties.
Bursts of electro and new wave pulsated throughout the five-day event. New York trio, BRAHMS, made the room dance from the moment they helped kick-off CMJ Tuesday night at a Piano's showcase. Singer Eric Lyle Lodwick darkly thumped through each track like Dave Gahan making BRAHMS a melodious addiction. The name Oberhofer could be heard here and there. Fronted by Brad Oberhofer, the subtle guitars, meshed with keyboard  have a few chiming hints of Vampire Weekend in tracks like AWY FRM U, off the band's debut, o0O0o0O0o, produced by Modest Mouse's Isaac Brock. Sydney's Cassette Kids, who now reside in Brooklyn, didn't fail to make patrons stir in and around their standing-room spots as vocalist Katrina Noorberger, like a willowy Terri Nunn, commanded the stage with her dirty dance-rock beats.
Out-of-towners brought as much hype to the daily time slots. Boasting five CMJ gigs under their belts, Newport Beach, Calif.'s Young the Giant offered their soul- and synth-fused set with tambourine-slapping Sameer Gadhia evoking some murmurs of Brandon Flowers vocals. A New Zealand Showcase presented an electronic beat down from Bowie-loving, petite powerhouse Zowie and the more Scissor Sisters-ridden Kids of 88 while Robert and David Perlick Molinari  of French Horn Rebellion filled Santos Party House with whimsical, electro beats (French horns included) as one of the last to perform Sunday morning at 1:30 AM.
A mix of dance, rock and DJ sets took place the final two days at the FADER Fort, reminiscent of a rave house, and some surprises filled in the week, including Phoenix, housed in a packed Madison Square Garden with surprise guests Daft Punk. A rumored turned confirmed appearance by Kanye West with new artist CyHi Da Prynce at the Brooklyn Bowl Fool's Gold Records Anniversary Party heightened the end of the fest by Saturday night. Here's to CMJ 2011.
Kanye West Live at CMJ via TimeOutNewYork
By Tina Benitez
Tina Benitez is a contributing writer, who covers music, wine and pop culture from her New York home office for publications like NY Press, Royal Flush, amNY, Men's Fitness, Venus Zine and Wine Spectator.