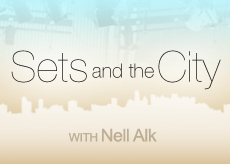 A week ago today you could find me smiling ear-to-ear at New York's Bowery Ballroom. Friendly Fires, one of my all-time favorite dance bands, played a solid sold-out show. My seventh time seeing the energetic trio, this venue proves particularly special to me. Hands down best date I've ever been on took place here nearly two years ago. And whom had we come to see? None other than the ever-catchy Friendly Fires. And White Lies, another UK-hailing favorite. Sigh. It was quite a night.
This time, I decided to fly solo, taking in the animated Saint Albans-based threesome all by my lonesome. I must say, though, that their performance style has somewhat shifted; while lead singer Ed Macfarlane still delivers the same sexed-up, hip-thrusting dance moves we've not seen since Elvis' pelvis, which is oddly comforting, their delivery has taken a turn. In part I think the BB sound system was a bit botched, but the instrumentals were especially augmented. You know when you expect something to resemble your record, only live? Well, this was different. More so than the expected differentiation. I welcome change, and disappointed the audience was not (there were cheers, clapping and whistles aplenty), but it caught me off-guard. It wasn't simply the new tracks that threw me, but the familiar tunes too. Regardless, I adapted.
Joining Macfarlane and his partners-in-crime Jack Savidge (percussion) and Edd Gibson (guitar) on stage were a second drummer, a saxophonist and a third on his horn. While they've been accompanied by additional backup band members before, still something's tweaked. Live, they're all around more, well, big band. Jazz. R&B. Our main man seemed to scat at times too. (Keep an ear out for Running Away, at least live.) As per usual, Macfarlane intermittently rocked two mics and, frequently, as is his signature maneuver, clunked himself on the skull with one. And, to be sure, there was no lack of cowbell or maracas adding texture to the set.
This show was the first time I'd had the opportunity to hear several songs from their forthcoming album Pala. I'd heard their single Kiss of Life live the last time they were in town, but, apart from that, their sophomore record remained a mystery. Of their thirteen-strong setlist, only five were classics (On Board, "Skeleton Boy, Jump in the Pool, Paris and Lovesick). On Board brought the club beat and JITP made the floor shake so much I thought we'd all fall through. Paris was essentially shouted in unison by the crowd.
FF went on a tad after 10:00 with a newbie entitled Blue Cassette and closed (a tad after 11:00) with Kiss of Life, which I'm counting as new too. During the latter, Macfarlane frequently bark-sneezed the word life and, after the song had essentially ended, he continued to shake that thang. Surprised? Of the new material, Show Me Lights proved extremely '90s-esque R&B. Even the lyrics alluded to this similar aesthetic; Late night dri-vin', Macfarlane crooned, showcasing his soaring falsetto whilst reinforcing the fact that indeed white men can dance, too. Hurting was another in this same vein. There were several fist formations, yanked down emo-female style. (P.S. Based on firsthand research, the next disc is poised to be the bomb for shower sing-a-long sessions.)
The direction Friendly Fires have taken lyrically is especially love- (and love lost-) centric, with titles like True Love and Pull Me Back to Earth, the latter a new favorite that maintains this same romantic strain. It's all legit, I've just got to acclimate to the new tune of Friendly Fires. I wouldn't go so far as to say they've spun a 180, but they're taking an audible risk a bit. Given how hard the world fell for their eponymous debut, I applaud them for challenging themselves and their fans. I personally cannot wait to hear Pala through headphones.
An acknowledged departure from my memories, Friendly Fires nevertheless remain the same passionate, sweaty, dance-y dream team I came to know and love so long ago. Macfarlane's lost the slippers (which he used to don onstage, presumably to help him better bust a move), but cutie's still a smokin' sex symbol in the eyes of women and men, his gyrating body and facial contortions bypassing PG-13 and approaching R. At least some things can be counted on to stand the test of time.
Looking forward to their return to New York this spring when they'll play Webster Hall in May and also be making cameos in several other cities across the country. Get your tickets stat, if they're not all gone already…
Photo credit: Vincent Cornelli, PrefixMag.com.