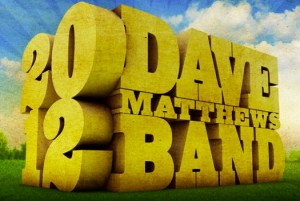 Back in February we covered how Twitter and Facebook had proved that the Dave Matthews Band and Steve Lillywhite were back in the studio for the first time since 2000's failed Lillywhite Sessions. Five months later, Steve Lillywhite continues to engage curious fans through Twitter, and the perennial touring juggernaut that is DMB is back on the road debuting new songs from their upcoming release, which fans can expect September 11th. I got the chance to catch their two-night stand in Hartford, Conn. Also in attendance both nights was none other than super-producer Lillywhite himself. Lillywhite had been teasing fans for weeks about listening to the new album in his rental car, and even Tweeting a picture of the burned disc.
Road trip listening !! twitpic.com/9orwub

" Steve Lillywhite CBE (@Sillywhite) May 24, 2012
Quite the brave move, considering the leak of his last studio effort with the band nearly led to their demise, and a decade long producer/band drought. Nonetheless, Lillywhite grabbed a couple of hardcore DMB fans while leaving the Hartford shows, and invited them to his car to give the album a listen.
Just sat with in @Sillywhite's car and listened to the new #dmb album with @kaciewithak & @ScarltFireDancr. #thankyou twitter.com/coreymanicone/¦

" Corey Manicone (@coreymanicone) May 26, 2012
The DMB fan community erupted with excitement as the news started to trickle out that someone had heard the new album, and suddenly Corey Manicone was a micro-celebrity. Over the next few days he answered as many fan questions about the album as he could remember; most importantly confirming that the new songs being played on the tour up to this point were all on the album. And later confirming the fourth and final new song to be on the album as well.
Read on to watch live performances of the four new album songs debuted thus far, and check out the full tracklist.