Something interesting recently went down atop the U.K. singles and album charts. Elton John reigned on the list of best-selling albums with a collection of 40-year-old songs, while Florence + the Machine was No. 1 on the singles chart for the first time ever. The band's vehicle? A song that was originally produced by Paul Epworth, a regular Adele collaborator (Rolling in the Deep and He Won't Go, the best song on 21) who had never managed to go that high in the U.K. working with the world's biggest female pop star.
Alas, he wasn't exactly scaling that height with Florence either"at least not alone. And therein lies the twist in this chart saga: a good beat. Those Elton John classics had been updated with a danceable 2012 electro sheen by Australian production duo Pnau on the chart-topping Good Morning to the Night, an album featuring dozens of John songs from between 1970 and 1977 crammed into eight tracks and credited to Elton John Vs Pnau, while Florence's Epworth-produced Ceremonials track "Spectrum" was the leading single via the re-titled and remixed-by-DJ/producer Calvin Harris (for optimal under-the-strobelight consumption) "Spectrum (Say My Name) (Calvin Harris Mix)."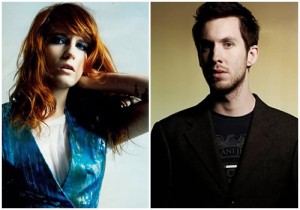 When Bryan Ferry sang, "Don't stop the dance," was this what he had in mind? Beat-driven pop where singers share star billing with the producers who boost them to the top? More than ever, the recording arts have become a producer's medium, in much the same way that film is a director's medium, with the behind-the-scenes talent dominating both the sound and the vision. (The stage, in singing"when it's actually live"as in acting, remains the domain of the performer.) With a smaller pool of star producers creating a bigger bulk of the hits, pop music has become as homogenized as Hollywood blockbusters.
According to Ron Fair, a veteran music executive and producer who has worked with Christina Aguilera, Fergie and Lady Gaga, it's a logical progression from how records are now made. A producer today is a hybrid role of producer, songwriter, and beat maker, he says. What we used to call arranging is now called making beats, so generally, the producer is the guy who walks in with the song. Back in [Beatles producer] George Martin's and [Linda Ronstadt/James Taylor producer] Peter Asher's day, they weren't responsible for making songs.
Dance music, however, has always been more of a producer's forum than middle-of-the-road pop. But with disco in the '70s, it didn't always show. When one remembers Donna Summer's greatest hits, Gloria Gaynor's "I Will Survive," or Amii Stewart's "Knock on Wood," the spectacular vocals probably come to mind first, then the beat.  (more…)

It seems like just yesterday: She was invading the dreams of pedophiles and lusty teenage boys everywhere. But that was 1998, the year Britney Spears, then sixteen, broke with her No. 1 debut single, "…Baby One More Time," and its accompanying video, in which the singer made an unforgettable first impression as Lolita-lite, a sexy school girl who was up for just about anything.
At the time, Britney seemed destined for the cut-out bin in two years flat. Her synthetic pop sound didn't sound built for longevity. And didn't the name Britney Spears, which was too close for comfort to that of '80s hair metal heads Britny Fox, have one-hit wonder written all over it?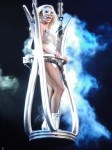 Boy, was I wrong! Thirteen years later, she's still with us. Her albums may no longer be as huge as they were at the dawn of the century, but she's still one of the leading ladies of pop. Super-stardom, however, isn't everything. Even an act with a hit list that's as thematically shallow as Britney's must crave a little artistic growth. She'll turn thirty on Dec. 2, but to me, she's still seventeen"partly because I don't want to admit that I'm getting so old, but mostly because Britney herself still doesn't sound as if she's a day over twenty.
Sure she's lived a lot. There have been two marriages, two divorces (actually, one divorce, one annulment), two children and countless scandals. I interviewed Britney for Teen People right after the release of her second album, Oops!… I Did It Again, in 2000, back when she still hearted Justin Timberlake. She struck me as a sweet teenage girl with a maturity level that matched her age. I don't know what she's like today, but her music doesn't make her sound much older.