Being a sibling to one of the hottest stars on the planet can have its benefits, but Trace Cyrus (aka Ashland High) has had no problem making a name for himself. Miley's older brother rose to fame in 2006 when his dance-pop band Metro Station was discovered at the top of the charts on MySpace. The group exploded in popularity with the release of their song "Shake It," and were soon sharing the stage with the likes of Cobra Starship and Fall Out Boy. After the band parted ways in 2010, Trace decided to continue honing his musical skills, and now records and performs solo as Ashland High. We met up with Trace at the Bamboozle Festival to learn more about the new project, his clothing line, and what it's like to work with his famous family members.
OS: How has your weekend at Bamboozle been?
TC: My weekend has been busy. It feels good to sit down and relax for a second. I've been here since Friday. I performed today and I've been selling my clothing line and meeting kids. I've met thousands of kids, I haven't met this many in years. It's great.
OS: You've been making music under the name Ashland High for a few years. How did it all begin?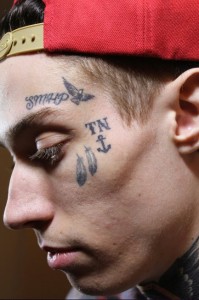 TC: It started a couple years ago after Metro Station. It wasn't really planned, but we went our separate ways. Basically, we were trying to record the second Metro Station album and it ended up being just me on a lot of tracks by myself, and I was doing a lot of work. It kind of gave me the confidence, since the band went our separate ways, I was like, "Well, I already did five songs by myself in the studio." They weren't great, but they weren't horrible. Two years later, like, a hundred and fifty songs later… The songs I have online, I did that last November and I recorded all of those songs in nine days. But before that, I had over 150 tracks that I did with other producers. It took me a long time to just feel confident with my craft as a solo artist. When you have a band and everyone contributes, it's a lot different. I'm definitely happy with where I'm at. Hard work pays off when you're doing it by yourself. I definitely have people helping me, teammates, producers and whatnot, but Ashland High is a solo act. A lot of people think it's a band, but it's strictly me.