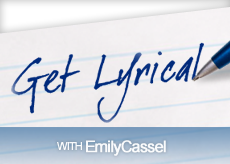 You know what they say: "A bird in the hand is worth two in the bush." Wait, hold on, that's not the old adage we were thinking of. What we meant to say was: "All good things must come to an end." And unfortunately, it's as true of weekly blog features as it is of depressing Nelly Furtado songs and Brett Favre's football career (probably). That's right folks"this is the last week your computer screen will be graced with the fine stylings of Get Lyrical. We've had some laughs, we've shed some tears, we've dispelled some myths and we've celebrated some pretty obscure holidays, but before we go our separate ways you should check out these OurStage artists and their musings on goodbyes. There's no denying that parting is such sweet sorrow, but hopefully these tracks will help ease the suffering.
Stockholm " "Goodbye Tomorrow"
Stockholm frontman Chris Arter says that the group's song "Goodbye Tomorrow" was inspired by the conflicts in Iraq and Sudan. "It was basically created with the message that if we just simply slaughter each other, turn our backs on our neighbors and friends or those less fortunate than us, that we essentially are saying goodbye to anything we could ever be, other than killers." But while "Goodbye Tomorrow" references these conflicts, Arter is careful to point out that it isn't an anti-war or anti-US song. Instead, the track is aimed at all those who commit violent acts "simply because they think they live in a part of the world that no one pays any attention to."
Stockholm makes a powerful case for peace with the song's bleak imagery. "Let's get to know the eyes of a terrified girl/Let's get to know the price of a terrified world/Let's get to know the hand that draws lines in the sand/Man away from man, terror to the land." But despite featuring ideas that are occasionally discouraging, like being "swallowed by the sea," Arter's lyrics also display some cautious optimism. "I wanted to balance a sense of despair with a reminder that while we are capable of such destruction, we are capable of immense good, and that our 'tomorrow' isn't gone quite yet," he says.
Arter also has some interesting thoughts on what it is that makes songs about goodbyes so common. "Though our song isn't really saying goodbye to a person, or a love, but rather to ourselves and our potential, the finality of the word goodbye holds a lot of power," he says. "Goodbye has a sometimes heartbreaking connotation of forever, making it an irresistible part of life to write about, because everyone has either heard 'Goodbye,' or said it."
Maren Morris " "Goodbye"
Maren Morris wrote the lyrics to "Goodbye" when she was sixteen, after a close friend was cheated on by her slightly older boyfriend. "She was definitely in a delicate condition and I sympathized with her a great deal," Morris says. "The song lyrics came to me very organically." While "Goodbye" has its roots in a sad story, it isn't all bad because the track's protagonist is staying song. "You can't hurt me," Morris sings, adding that not a single tear has been shed "'cause I'm better than that." It all leads up to the last line of the song's anthemic chorus: "Don't try to get to me, 'cause I've already said goodbye."
Morris's intended for her lyrics to keep her friend from getting lost in her grief, and help her maintain a positive outlook on a not-so-positive situation. "I wanted to present this song to my friend to empower her, not keep her feeling broken about the situation," she says. And since goodbyes are such a common theme in songwriting, that theme of empowerment is how Morris sets her song apart. "I suppose what's different about my interpretation of that experience is that it ends on a positive note rather than wallowing about it."
There you have it, OurStagers, the end of Get Lyrical. Now take a page out of Morris' book and don't dwell on the loss"get back out there and enjoy all the fantastic lyricism available to you on OurStage!