Katy Perry, Lady Gaga, Beyoncé, Ke$ha and, of course, herself. As Rihanna sees it"or saw it in the September issue of Glamour magazine"they're the girls who run the world of pop in 2011.
What? No Britney Spears. I'm pretty sure leaving her duet partner on the recent No. 1 remix of "S&M" off the list was an innocent oversight. But what about Christina Aguilera? That omission must have been intentional. (By the way, I'd certainly argue that Pink, who's between albums and focused on mommyhood at the moment, and Adele, whose 21 album is outselling all of theirs combined, would qualify as much as Ke$ha.)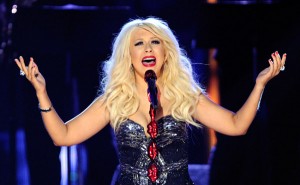 There was a time at the dawn of the millennium when Aguilera was the pop princess-in-waiting, second only to Britney Spears. But 2010 was truly her annus horribilis. First, there was Bionic, her fourth studio album, which failed to produce a major hit single and didn't even go gold. Then her summer tour was cancelled. (She blamed scheduling issues, but the forecast no doubt called for limp ticket sales). And by autumn, her tepidly received film debut in Burlesque (a guilty pleasure and future camp classic if ever there was one, but mostly thanks to costar Cher), was doing nothing to restore luster to her falling star.
Her October divorce from Jordan Bratman, the father of her 3-year-old son Max, blemished her personal record, and flubbing the lyrics to "The Star-Spangled Banner" at Super Bowl XLV in February, further tarnished her professional one. By the time she was arrested for public intoxication in West Hollywood on March 1, her career seemed to be flatlining.
Get it to the OR! Stat!