Prince kicked off his 21-night tour of Los Angeles last week on Lopez Tonight, and along with discussions about artichoke being an excellent swear word and his love for tortilla chips, Prince told George that he wants copyright laws changed so that no one can record covers of his songs. Ever. Prince has always been pretty protective of his songs, fighting his label, YouTube, eBay and even his fans over what he considers his intellectual property. But we're a little surprised that he'd want to go so far as to make covering his songs illegal. (We're also surprised that people actually watch Lopez Tonight, but whatever.)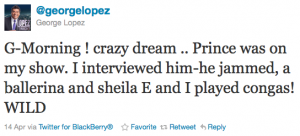 My problem is when the industry covers the music, Prince told Lopez. There's this thing called compulsory licensing law that allows artists through the record companies to take your music at will without your permission. And that doesn't exist in any other art form, be it books, movies"There's only one version of 'Law & Order.' There's several versions of 'Kiss' and 'Purple Rain'.
There's just one problem with that: Prince isn't exactly right. Compulsory licensing does exist in other media, including television, and as Hollywood Reporter explains, there are plenty of "fair use" exceptions in literature and films as well.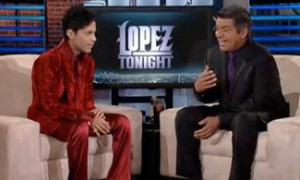 Besides the questionable facts Prince uses in his explanation, we just don't quite get where he's coming from. Don't get us wrong"Prince is a superstar and no one rocks sequins and high heels quite like he does, but how can someone who's covered everyone from Michael Jackson to Radiohead to Gnarls Barkley to Rihanna say that it's uncool for other people to cover his songs? We're also a little confused as to what sparked this, especially following Prince's decision to let Gwyneth Paltrow belt out "Kiss" on an episode of Glee earlier this season. Guess the eighties superstar is down with covers… as long as the money's right.
Either way, Prince won't be able to make this happen. Under United States copyright law, once a song has been recorded and publicly distributed compulsory licensing kicks in, and any musician who pays royalties has the ability to record a cover as long as they notify the original artist. But juuuust in case he somehow manages to pull it off, here's a playlist of some of our current favorite Prince covers to keep you satisfied. No, Limp Bizket's rendition of 1999 didn't make the cut.