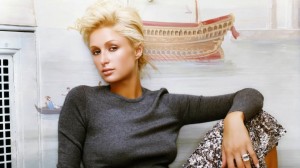 We have been hearing rumors over the last year that reality show / sex tape starlet Paris Hilton would be returning to the world of pop music, and this morning we can confirm that is indeed the case.
Paris Hilton has been out of the pop music landscape since her disastrous 2006 debut album, but after spending a number of years on the EDM bandwagon, the heiress is apparently ready to show music fans what she's got. She signed a deal with Lil Wayne's Cash Money Records not long ago, and today she released a teaser for her comeback single, "Good Time," which arrives October 1. You can view the teaser on Idolator.
It's far too early to tell whether or not the world is ready for Paris Hilton to takeover the airwaves, or to do anything, really, but "Good Time" sounds like it's probably no worse than any one of the numerous EDM-infused hits at radio today. Comment below to let us know your first impressions of "Good Time," then stop back by on October 1 to stream the full song.