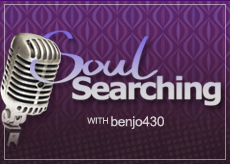 Mike Murphy"this week's Soul Searching pick and OurStage artist on the rise"hails from Canton, Ohio. With an extensive background in gospel music (thanks to an early start performing in church), Mike quickly found his soulful side and has perfected his craft over the years. His music frequently features an R&B style, and heartfelt lyrics that he attributes to his religious upbringing. Growing up, Mike frequently participated and succeeded in a number of local talent shows due to his stage skills and vocal abilities.
Fast-forward a few years later, Mike joined the Armed Forces. As fate would have it, he was selected by Army Entertainment to participate in the 2000 US Army show. From there, Mike traveled the world in order to perform and entertain the troops with his talent. Once his duties were complete, he gave New York a chance"showcasing his skills at popular nightclubs. During this time, Mike also teamed up with producer Hamza Lee and worked on a few tracks with the lead singer from the group Soul for Real.
The culmination of all this experience brings us to his recent full-length release Love. The album shows Mike's personal vulnerability and features everything from ballads to club tracks. Mike has shown some great success on OurStage, ranking in the Top 10 in R&B and the Top 100 for "Best of " Urban Channel.
Listen to Mike's single Hopeless" a track about when someone is just not that into you and how hard this realization can be"below. The song is a prime example of Mike's vocal ability.
Keep an eye out for Mr. Murphy as he continues to climb the ladder of success.