Most families keep a bowl of fruit on the dining table. Hannah Acfield's kept one full of maracas, tin whistles, clap sticks, and harmonicas, which helps explain how the Melbourne artist ended up with a guitar in her arms years later. Acfield's folk songs cover the stuff of ordinary life"the beginning of a new relationship, the end of a long one, and the little traumas that make us who we are. On the sublime This One Knows, the singer recalls the first blush of love with an acoustic guitar and warm, lilting vocals that show off her antipodean cadence. But don't believe us"Gotye himself says that Acfield's voice engages you instantly. This One Knows is summery melody steeped in nostalgia that's best played while driving with the windows down. But not all memories are as warm. On My Tomorrow Acfield recounts a violent mugging, and produces a defiant folk rocker in the process. Tragedy and tambourines are strange bedfellows, but under Acfield's artful guidance, everything's in its right place.

Carly Rae Jepsen is in luck. It looks like she won't have to ensure the continuation of her celebrity run after Call Me Maybe falls from its current summit by relying on the hoopla generated by her own Nipplegate"nude photos that ended up being someone else's.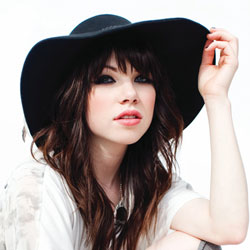 Thanks to a call from Adam Young, the one-man band behind Owl City, Jepsen is about to relight the fire under her rising star the old-fashioned way: with a new hit. "Good Time," her duet with Owl City, just debuted at No. 18 on Billboard's Hot 100, which means that her breakout No. 1 single won't forever be alone on her hit list.
It's pop symbiosis at its most effective: He saves her from that pop purgatory known as one-hit wonderdom, where he had been languishing since 2009, when the Owl City single "Fireflies" hit No. 1 on the Hot 100, and she helps get him out of it. Sure Katy Perry could have accomplished the same thing in the middle of a dead sleep, but that hardly would have been a meeting of near-equals.