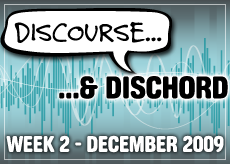 The Good
Danger Mouse and James Mercer get LOST on fans

Danger Mouse and Shins frontman James Mercer are set to release their first collaboration in early 2010 under the moniker Broken Bells. If that doesn't get your indie motor running, this will: To hype up the new record, the duo has launched a mysterious viral campaign. Here's what's gone down so far:
Those signed up to the Broken Bells mailing list received an email last week written entirely in binary code. Translated it reads, The high road is hard to find, which is an obvious reference to one of the album's tracks, The High Road. This week ads started popping up on various Web sites, displaying an image of two shadowy figures. The ads link to several nonsensical Web sites " all anagrams of Broken Bells. There, listeners can hear brief snippets of streaming audio, presumably from the record.
I haven't been this excited since finding out that Ethan Rom was an anagram for Other Man!
ABBA decks the hall
The Hall of Fame Foundation has announced that ABBA will be inducted into the Rock and Roll Hall of Fame in Cleveland in March 2010. The Swedish pop group joins Brit rockers The Hollies and Genesis, Detroit rockers the Stooges and reggae legend Jimmy Cliff, who will all be inducted this year as well.
T-Pain and Andy Samberg: On a boat, with crabs
As we mentioned last week, comedy group The Lonely Island has been nominated for a GRAMMY for their duet with T-Pain, I'm On A Boat. This week Andy Samberg reunited with T-Pain for a Funny or Die sketch in which he uses the T-Pain Auto-Tune app on his iPhone to serenade a hermit crab. Funnies ensue.
For the video, click here.
The Bad
Courtney Love loses custody of Frances Bean
This week a judge appointed Wendy O'Connor and Kimberly Dawn Cobain " the mother and sister of the late Kurt Cobain " legal guardianship of 17-year-old Frances Bean Cobain. Proving the legal system right, Courtney Love took to the interwebs to voice her frustration, posting a long rant on Facebook which she quickly deleted but not before several Web sites picked it up. Highlights include Love calling Frances Bean deluded and deceptive. Kind of makes Alec Baldwin look like Father of the Year.
The Ugly
Chris Brown disses Walmart, quits Twitter
Chris Brown stopped by a Walmart in Wallingford, CT and was, um, dismayed to see that the store wasn't carrying his new record, Grafitti. So, like fellow genius Courtney Love, he voiced his concerns on the Internet, tweeting [Walmart] r blackballing my cd. Not stocking the shelves and lying to customers. What the f"k I gotta do. [sic] Walmart responded that they were, in fact, selling his CD across the country, including the Wallingford location. Brown then deleted his Twitter account. Now if only Love would do the same ¦
Rihanna goes topless for GQ
More classiness for you. Begs the question, why is this a headline? A more newsworthy story would be Rihanna keeps her shirt on for photo shoot.
Miscellany