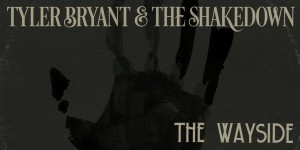 Tyler Bryant and his incredible band The Shakedown have been busy spreading their brand of updated, blues-heavy rock and roll in the couple of years since they appeared as the OurStage spotlight band on ABC's Jimmy Kimmel Live! Now they're back with a new release that marks a kind of shift in creative direction. Produced by Vance Powell (Jack White, Seasick Steve), the six-song EP The Wayside finds the band expanding further out from traditional blues rock (though fans of Bryant's and 2nd guitarist Graham Whitford's dazzling guitar work should not be disappointed here) into what sounds a lot more like the kind of stoner rock purveyed by Queens Of The Stone Age, et al., while remaining rooted to the '70s southern rock giants that are clearly close to their hearts. Atmospherics and texture are a primary focus here, and the band is clearly thoughtful about their approach to each song. Every track here has a different vibe, from instrumentation to production style to Bryant's vocal technique. The singer has found the sweet spot that does not require him to reach for barrel-chested soul belting – he just doesn't have that kind of voice. Instead, the songs here allow him to explore more subtle turns of phrase and melodic intricacies that will keep your ears glued to this release. When the band delivers their take on the classic "Mojo Workin," this is most apparent. On a song that could easily, and surely pleasantly enough, be a vehicle for some slick guitar work and big yelping (as it has for a generation of early rock artists), Bryant instead eases back into the music to create a solid and more subtle slab of fuzz rock. Can't wait to see these guys live again.
The Wayside is now streaming on Spotify: http://republicrec.co/TheWaysideEPSP
If you've looked at the Billboard Rock Charts lately you may be wondering what's happening to the state of the genre. With chart-toppers like Grouplove, fun., and M83, it feels like the industry is in need of a good ole rock revival. Enter Tyler Bryant & the Shakedown. The Nashville quartet have made it their mission to perserve all that is holy with rock 'n' roll and are converting followers one live performance at a time.
Last week the audience of the East Village haunt Arelene's Grocery were treated to an electrifying performance by Tyler Bryant (vox, guitar), Graham Whitford (rythymn guitar), Caleb Crosby (drums), and Gabe Anderson (filling in on bass). The band was in town for a few days to attend the premiere of Abraham Lincoln Vampire Slayer (Bryant played guitar on the film's score), to attend OurStage's Artist Advisory Board meeting, and to showcase at the New Music Seminar. Check out their performance of "Kick The Habit" live at Arlene's: