It's something that I didn't think I'd be doing again is the first comment out of Annie Haslam's mouth about the revitalization of Renaissance, the legendary British prog-rock band she led to fame in the ˜70s. On such classically tinged art-rock milestones as Ashes Are Burning, Turn of the Cards, and Scheherazade & Other Stories, Haslam's crystalline vocals blended with Michael Dunford's deft acoustic guitar work and John Tout's vivid keyboard flourishes on epic tracks brimming with invention and energy in equal amounts. Renaissance was a leading light on the ˜70s progressive rock scene, but since the ˜80s, their live activities have been sporadic, and the 2001 release Tuscany has been their only studio album since 1983's Time-Line.
I kind of wound down my solo singing career in about 2002, says the Bolton-born songbird, who now makes her home in Bucks County, Pa., and started painting, which is my other love, just as much as singing. I've been painting nonstop since 2002 now. So I didn't really have any interest in going back into music, I liked the fact that it was just me, and not a lot of other personalities to deal with. Then Michael Dunford contacted me in 2008, and before he opened his mouth, I just knew. He said, ˜Annie¦' I said, ˜No.' [Laughs] And that's basically how it started up again.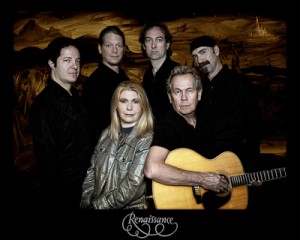 A revamped Renaissance ended up touring in 2009-'10, playing their classic cuts for grateful fans. Soon, some new work found its way into the set list. We added a new song Michael and I had written together called ˜The Mystic & The Muse,' expains Haslam, We don't ever remember having a standing ovation for a brand new song, which we had every time we played it, so that was very encouraging for our future writing. Before long, Renaissance was embarking on two equally ambitious projects"staging a new tour to perform Turn of the Cards and Scheherazade & Other Stories in their entirety, and putting together their first new album since 2001.
Turn of the Cards was really one of our most popular albums, says Haslam of the full-album shows they started doing in 2011, with ˜Mother Russia' and ˜Running Hard' on it, and Scheherazade we felt was really a huge album"when Michael and I decided to do that, we were talking about it and we both thought, ˜My gosh, this is a huge piece of work to give to the musicians to do.' It was huge when we did it [originally]. Actually it was probably bigger [to undertake] in the ˜70s, because we didn't have the technology. They pulled it off though, it was brilliant. I love that piece so much, ˜Scheherazade' in particular. When I'm onstage I get so into the music that I just barely remember to come in with the tambourine and come to the front of the stage. There's a lot of music in it so I kind of step back, and I just get lost in it.