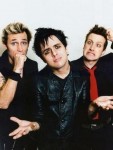 Green Day are no strangers to documentaries, and after the tremendous success of Bullet In A Bible back in 2005, we can't wait to see what they produce with their latest, ¡Quatro!.
Capturing the band behind the scenes, in the studio, and in rare form enjoying a little time off, ¡Quatro! aims to give fans an inside look into not only the band's personal battles in the balance of life and music, but their time in the studio.
"That summer, we took about a month off," Billie Joe Armstrong says of the 2009's 21st Century Breakdown. I set up a small studio and I started making demos, doing it for myself¦ I think sometimes taking time off feels dangerous to me. Bands that 'take time off' — they're not as good when they come back."
Through images of mass crowds, and screaming fans, we hear Armstrong continue, "Let your audience grow with you and grow up with you, and at some point grow old with you."
You can check out a clip from the documentary right here, and catch its airdate on VH1, Wednesday, Nov. 28 at midnight ET and again on Palladia Friday, Nov. 30 at 9pm ET.
If you like Green Day, check out OurStage artist Wolf Rage.
More like this: