By Em Cassel
Critics everywhere seem to agree that women dominated music in 2013. The Boston Globe, Vice's Noisey blog, NPR " all of these fine journalistic institutions published year-end review pieces that were like, "Damn, ladies, way to put those double-X chromosomes to WORK!" Not just in one genre, either " from the glitziest of pop to the crustiest of punk to the twangy-est country, women were the ones making moves in '13.
And that's awesome! Being a gal myself, you have no idea how happy it makes me to see artists like the ferociously talented Frances Quinlan and singer-songwriter Laura Stevenson getting the credit they so unequivocally deserve. Finally.
But before we go congratulating ourselves for being so progressive or claiming that sexism in the industry is over, we need to take a long, hard look at all the ways that female musicians are regularly mistreated. Because, oh boy, were there a lot of cases of blatant misogyny last year. Get ready to be overwhelmed by hyperlinks¦
(more…)

About a year ago, a relatively unknown rapper from Oakland,  Calif. dropped a song that took the web by storm, gathering millions of YouTube hits in a matter of weeks. Kreayshawn's track, "Gucci Gucci," was a goofy, subversive send-up of brand label mania, and immediately earned her equal amounts of praise and scorn. People called her an amateur rapper, an industry fad, and a one-hit wonder. Now, she's out to prove them all wrong. Kreayshawn's debut major label album Somethin' Bout Kreay will be released this September on Columbia, and the Bay Area rapper is ready to take her haters head-on. We caught up with Kreay to chat about the inspiration for the album's title, her love of BAPE, and why nobody really seems to "get" the meaning behind her first hit.
OS: You recently teamed up with Tragik, Grimes, and Blood Diamonds on the track "Don't Smoke My Blunt Bitch." Are you all planning on doing more music together as L$D, or was that just a one-off deal?
K: It was just four musicians hanging out in a room who ended up making a song. We really just did it for fun. It was like, "Let's make a song in ten minutes!" We literally said that before we made the song. Maybe if we all sit in a room together someday it'll happen again, but it was really just for fun. It was like that for the video, too. We shot it the next day. Tragik is a legendary-ass filmer and editor, and she was able to turn it around in less than a day. It's cool to see something like that happen.
OS: Obviously you're more focused on the new album right now. What can you tell us about the title? It immediately brings to mind the '98 Farrelly brothers movie¦
K: It definitely has that same type of feeling. It basically started when I was talking about how hella guys are in love with me. Well, not hella guys. But there are always guys who are trying to talk to me through a friend. They're all like, "Hook me up with Kreay! Hook me up with Kreay!" This was in the middle of me trying to name my album about anything that I saw. I'd be like, "Look at that pole! Let's name the album¦Really Long Pole." So I'm thinking of album names, and my homie's like, "Damn. There's just something 'bout Kreay that makes the guys go wild!" And I was just like, "That's it! Something 'Bout Kreay. That's it!" It came from that, but I realize there's also just something about Kreayshawn that people either really love or really hate me. It's never in between. It's always something about me that either makes them hate me or makes them love me.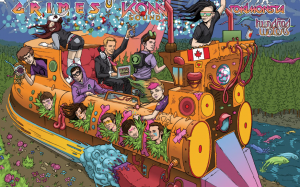 When was the last time you even rode a train? Think about that for a second and then consider the news that Skrillex, Diplo and some of their friends are touring in one?
Indeed, the Full Flex Express Tour is set to take the great white north by storm over the next few days. The six date run is going to hit every major market in Canada, starting in Toronto and wrapping up in Vancouver. The lineup, consisting of Skrillex, Diplo, Pretty Lights, Grimes, Tokimonsta, KOAN Sound, and Hundred Waters, is a stacked mix of the best and weirdest that the EDM scene has to offer. We even came across a computer generated simulation of what the tour will likely sound like.
But the whole train thing? What inspired this ragtag collection of DJs and producers (and Grimes) to traverse the great white north via locomotive?