íber-concert ticket/ music industry beast LiveNation. Deal-of-the-day mega magnate Groupon. What do they have in common? On paper it doesn't look like much if only because their business models are based on opposite goals. Groupon has to get you, the consumer, the best deal that they can because that's how they make money while LiveNation WILL charge you that $5 facility fee, $2.50 for convenience fee and another $3 because why not fee. They say that opposites attract though which makes news of a joint venture between the two companies all the more intriguing. On May 9th, Groupon and LiveNation announced a strategic partnership, a new online ticketing service. The name of the progeny of this unholy union, you ask? GrouponLive.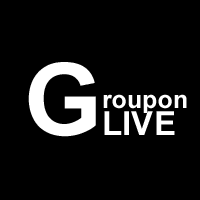 Real original guys.
So what's the "deal" with GrouponLive (pun intended)? Well, it's exactly that. The partnership promises discounted tickets which makes sense given their respective backgrounds. What'll set GrouponLive apart, what'll distinguish them from other discounted ticket services, is the pedigree that goes along with their name and their approach to ticket sales. By subscribing to their service via email, GrouponLive will send out a concert-of-the-day ticket deal to users for a show happening that day. So if they offered $10 U2 tickets"like that'll ever happen"in the morning then the show would be that night.
So, is this good or bad? Well, even though this alliance is formed by two giant corporate behemoths, on the surface, things look pretty beneficial for all the parties involved"a rare occurrence indeed in the music biz. The deals that GrouponLive would offer would be to shows that are not close to capacity the day of, so you would likely see more smaller, independent acts coming up in the offers. And everything would work under the Groupon model with tickets typically to be sold at 50% off their face value.
For those not familiar with how Groupon works, here's a tutorial: You sign up with Groupon and they send you a new discount deal every day which you need to request to make available by putting down money for it. If enough people sign up for the offer then the offer becomes available to all. If not, then the money that you put down for that coupon becomes a credit you can user later. People get bargains, businesses get more business, Groupon gets a cut, ostensibly a win-win for everybody. Plus LiveNation claims that the subscription will expose fans and artist alike to one another which isn't nearly half as dirty as we're making it sound. Check out the President of Live Nation say it more eloquently then we are:
All sounds good, right? People get introduced to new music in a live setting on the cheap and artists can better fill the room and get new fans. What's not to love? Well, depending on who you ask, a lot.
First, it would appear that the offers would only be available to LiveNation venues so your friend's basement venue probably can't get in on the deals. On the industry side of things, many have grumbled that when the service goes live in June and begins offering steep ticket discounts, copy cat companies will spring up and begin offering their own discounts. A pricing war driving ticket costs to the rock bottom might be great for the fans but would be damaging to the artists and the venues involved. Also, the "Live" part of "GrouponLive" partnership might be the biggest shadow looming over the deal. Sure, a $10 concert ticket is great, but tack on a service charge here and a convenience fee there and who knows if you're really saving money? At that point is anyone really winning?
At this point, all we can do now is speculate. Outside of the deal announcement both Groupon and LiveNation have been pretty quiet about the particulars of the deal. It's unclear who is getting how much of a cut on the ticket sales as the financial terms of the deal remain undisclosed. Regardless of anyone's feelings, the merger could be the kick in the ass the live entertainment industry needs right now. Concert revenues, previously hailed as the savior of the modern music industry, counted on to make up for lost revenues for artists where album sales once were, are down. According to Billboard, 11,555 shows brought in $2.1 billion in gross revenue in 2010. Those numbers represent a 26% drop in revenue and a 24.4% drop in fan attendance from '09. Another telling number: as many as 40% of all tickets last year went undersold.
GrouponLive and the inevitable clones that will pop up in its wake may be a tool, a valuable instrument to heal the wounded concert business. A drop in concert revenue is a problem and this could be part of the solution. But even if this might be good for the industry it remains to be seen whether it'll be good for the rest of us. Looks like we'll find out in a few weeks and just in time for the summer concert season to boot.