Most kids in their early 20s spend the majority of their time in college classes or at 9 to 5 jobs, but the members of powerpop group Hey Monday spend their time touring the world and playing sold-out shows across the country. After performing on the full string of this summer's Warped Tour and releasing a new EP called Beneath It All, the band are currently co-headlining a fall tour with Cartel. We caught up with lead vocalist Cassadee Pope on what's in store for the band for the rest of 2010.
OS: This will be Hey Monday's first headlining tour since the release of Beneath It All. How is this tour going to be different from your last headlining tour?
CP: We'll be playing pretty much the whole EP. That in itself will add a whole different element to the live show. We'll have a bunch of old songs in the mix also. We're working on some really intense transitions between some of the songs the we think the fans will enjoy. We just want this set to bring the crowd into an alternate universe with us.

OS: Beneath It All was originally supposed to be a full-length, but you cut it down to seven songs and released it as an EP instead. Will you be playing any of the songs that were cut from the album on this tour?
CP: We won't be playing any of those songs yet. Eventually we will when it's closer to the next release. But we want to focus more on the material we've just released. Plus, fans can't really get into songs they've never heard. We want it to be a huge sing-a-long!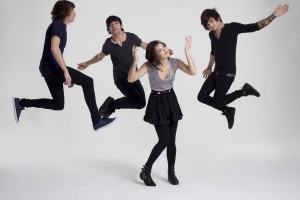 OS: You have done live guest vocals with All Time Low, Cobra Starship and Fall Out Boy, just to name a few. What vocalist(s) would you most want to join you on stage for a cameo, and for what song?
CP: I think having any of those singers (Patrick [Stump of Fall Out Boy], Alex [Gaskarth of All Time Low], or Gabe [Saporta of Cobra Starship]) join us on stage would be a huge honor. I've had Alex come sing with me during "Homecoming" a few times. I'd have Patrick come sing "Mr. Pushover" just because his soulful voice would really add a ton to that song. And Gabe could sing "I Don't Wanna Dance" with me, because it's a fun and upbeat song.
OS: You've been on tour overseas multiple times. How is touring in the US different than touring abroad?
CP: The fans overseas are so thankful for when we come through. American bands are so scarce over there, so they really show us the best time. Not to mention, the cultures are all so different. We've learned so much abroad.
OS: Cartel, The Ready Set, We Are The In Crowd and This Century will be joining you on the road. What are you most looking forward to about traveling with those bands?
CP: I'm a huge fan of Cartel. I actually wrote one of my first songs I ever recorded with Will [Pugh, vocalist of Cartel]. I love all the bands we're taking out. I can't wait to just hang out with everyone everyday, and watch their sets every night. I guess I'm looking forward to every aspect of touring with these bands!
OS: Even though your band members are still young, you have toured all over the world for the past two years. Can you give some tips to young bands going out on tour for the first time?
CP: I think sometimes, young bands who get the privilege to do such great things like tour get big headed. Just make sure to be thankful for what you have, and the opportunities you are given. You should always be confident in yourself and your music, but not cocky. Nobody will want to tour with a band who thinks they are the bees knees!
Catch Hey Monday on tour with Cartel, The Ready Set, We Are the In Crowd and This Century this fall:
November 9 – The Rave, Milwaukee, WI
November 10 – Station 4, Minneapolis, MN
November 12 – Marquis Theater, Denver, CO
November 13 – Avalon, Salt Lake City, UT
November 15 – El Corazon, Seattle, WA
November 16 – Hawthorne Theatre, East Portland, OR
November 17 – Great American Music Hall, San Francisco, CA
November 18 – Glasshouse, Pomona, CA
November 19 – El Rey Theater, Los Angeles, CA
November 20 – Epicentre, San Diego, CA
November 21 – The Nile, Phoenix, AZ
November 23 – The Door, Dallas, TX
November 24 – Emos, Austin, TX
November 26 – House Of Blues, Orlando, FL
November 27 – Culture Room, Ft. Lauderdale, FL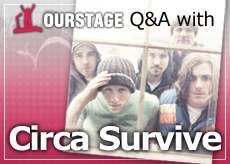 As one of the biggest names in contemporary progressive rock, Circa Survive continuously strive to do things differently. For their latest record, Blue Sky Noise, the Philadelphia-based quintet brought on a new producer, switched record labels and ultimately created an album that received rave reviews from critics and fans alike. We caught up with guitarist Colin Frangicetto as the band prepared to head out on their next US headlining tour.
OS: You're out on tour from mid-October to the end of November with Dredg, Codeseven and Animals as Leaders. As headliners of this tour, do you plan on increasing stage production?
CF: Yes! When we do headlining tours, that's always the first goal, to bring more to the stage in the way of production.
OS: Circa Survive have had several guest vocalists during shows in the past, including Good Old War, Mindy White from Lydia and Geoff Rickley of Thursday. Can fans expect any on-stage collaboration between acts on this tour?
CF: I would be extremely surprised if it didn't happen.
OS: Do you have anyone in mind?
CF: Probably anyone we can get our hands on, I mean, we're fans of all of the artists we're bringing, so I would assume it would be multiple people from different acts on this tour. I wouldn't expect anyone to be excluded unless they wussed out and didn't do it (laughs).
OS: Any songs you'd want to do in particular?
CF: Not in particular…there are certain group vocal parts on the record that I think anyone familiar with the album would know, but I think most likely it will be up to the artists and which ones they would want to contribute to. We'll leave it as a surprise.
OS: What is the transition like between seasons as a full-time touring act? Do crowd interactions and response tend to vary between outdoor festival shows versus indoor shows?
CF: It really depends more on the territory and the vibe of the event. Sometimes we play festivals where we are very much so outsiders and we're playing to a bunch of fresh ears, people who haven't really heard us before. So obviously the response in a place like that is going to be a lot different than, say, Bamboozle, or a place where we have an extremely large crowd watching us, that is familiar with us. It's a much more high-energy vibe when people are familiar with the band, which I think is to be expected, especially with rock bands…it's a lot easier to get into it when you know every word and every arc of every riff. But we try to accept all types of responses. In traveling around and playing for people of different cultures, you kind of get used to the fact that every place is different. In the states, even, you can drive eight hours and the crowds will just have a completely different energy. We are obviously fans of a joyous celebration with ecstatic energy, but if people just want to stand there and watch and not really participate, that's fine too.
OS: Your first two albums were released on Equal Vision, but Blue Sky Noise was released on Atlantic Records. What are some of the big differences between working on an indie label and working on a major label?
CF: I think what a lot of people don't realize is that indie labels are operating and have been operating in a similar vein to major labels for quite some time. I think a lot of the major labels have taken certain cues from a lot of the indie labels. So there's a much bigger middle ground where they're kind of the same. But, some of the differences have been worldwide support that we haven't experienced in the past…being able to go to Germany for the first time and play for 400 people in a random city. Atlantic is a much bigger company so there's a lot more people involved in the record on all aspects. More minds, which is always a good thing, but at the same time, it's more people to pay attention to and make sure that everyone is on the same page. So it's a little more work in that aspect, but the pay-off is really the same. We feel like the people there are just as passionate as the people at Equal Vision and that's really what it comes down to. When you change labels, you're really just changing the people that you're working with. We had a great relationship with Equal Vision, we actually still do. There were big shoes to fill and Atlantic has been wonderful so far. It's still early on, but it's been great.
OS: You worked with producer Brian McTernan for Juturna and On Letting Go, but worked with David Bottrill for Blue Sky Noise. What made you decide to work with him?
CF: The journey of making this record was we really wanted to try a lot of different things. A producer obviously has a huge impact on the overall sound of the record. We see working with producers almost like working with teachers, in a way. We thought that we had kind of learned what we were supposed to learn from Brian and we were really excited to see what someone else could offer and bring to the table. We essentially just wanted to change the sound palette and make a record that jumped out as sounding different from the other two. David obviously met that criteria, but on top of that, he has just made so many incredible albums and worked with so many wonderful artists. The idea of working with him didn't even strike us as a real possibility until we started sitting down with people and we looked at the calendar…and it's like, "Meeting with David Bottrill" and you're like, "What?!" Your brain tries to make sense of it, but it doesn't really become a reality until you say, "I do want to work with you, David" and he says "I do want to work with you guys!" We sat down together and after that wave of nervous fanboy excitement, being in the studio with him was just incredible. I never was so happy with a choice. He was perfect for us for this record and took us to different places. I think the record speaks for itself and his track record with working with artists is still in tact, I hope.
OS: All three of your album covers were created by Esao Andrews. Is there any sort of connection between the three covers?
CF: It's funny, because the theme for a lot of the decisions was, "Change, change, change." But when it came to Esao, we were like "No, we're gonna stay." We feel like he's really our visual counterpart; he's great at putting a visual to what we make on a record. I think any connection with the covers would be inside of Esao's twisted mind. I think it's open to interpretation and you can easily connect all three by some type of narrative in your own head. I think what's so great about that is that it's what we try to do with our music. We try to create this subtle narrative, but at the same time, we want it to be subtle enough that you can steer it any way that you like to make sense and interpret it the way you want.
OS: You spend a lot of your free time working on original paintings yourself. Do you have any plans to exhibit your art or mass produce it for fans?
CF: I do make prints from time to time and they've always been limited to a certain number. As far as doing shows, I've done a couple, whether it's a group show or a small exhibit at a coffee shop, something like that. I really would love to do a real art show at some point, it's just so hard to find time to submit stuff. And then half of these galleries that I would want to submit to, they work a year ahead of schedule…so it's like, "Oh yeah, we'll prepare for your show at this time." And I'm like, "Well, I could be in Japan then…so I have no idea how I'm going to do that." So there hasn't really been time to do that yet, but in the future, it's definitely something I plan on doing and I'm just trying to spend as much time as I can on it on the side.
OS: In addition to working together in Circa Survive, you also collaborated with Anthony Green's solo album and produced the remix version of Avalon. Will you be working together again on his next album?
CF: I think so. We've talked about it a bunch and I've heard a lot of the songs he's been working on. I know Keith Goodwin from Good Old War has got his hands all over it, I think he might be producing the record. But yeah, I'm sure I'll wind up doing something for it…it's just too much fun not to. So if Anthony wants me to, I'm sure I will!
Don't miss Circa Survive when they visit your hometown!
October 26 – House of Blues, New Orleans, LA
October 27 – House of Blues, Houston, TX
October 29 – White Rabbit, San Antonio, TX
October 30 – White Rabbit, San Antonio, TX
October 31 – House of Blues, Dallas, TX
November 4 – House of Blues, Anaheim, CA
November 5 – House of Blues, San Diego, CA
November 6 – Avalon, Hollywood, CA
November 7 – The Regency Ballroom, San Francisco, CA
November 9 – Wonder Ballroom, Portland, OR
November 10 – El Corazon, Seattle, WA
November 12 – The Complex, Salt Lake City, UT
November 13 – The Summit Music Hall, Denver, CO
November 14 – The Beaumont Club, Kansas City, MO
November 17 – Cabooze on the West Bank, Minneapolis, MN
November 18 – The Eagles Club, Milwaukee, WI
November 19 – House of Blues, Chicago, IL
November 20 – St. Andrews Hall, Detroit, MI
November 21 – House of Blues, Cleveland, OH
November 23 – The Chance, Poughkeepsie, NY
November 24 – House of Blues, Boston, MA
November 26 – Theatre of the Living Arts, Philadelphia, PA
November 27 – Irving Plaza, New York, NY
November 28 – Irving Plaza, New York, NY