With the new year comes new talent, new music and new must-see shows from some of our favorite artists. While more hot ticket tours are sure to be announced as the months go by, here's a few we're already gearing up for in 2012.
Rick Ross: Although he's been relatively quiet since last year's numerous health scares, it seems Ross is ready to get back on the scene with a year full of features, releases and live gigs. On January 13, he will be at LA's Nokia Theatre with Busta Rhymes, Y.G. and Eric B; following up with a show two weeks later at Webster Bank Arena in Connecticut.  In February, he'll hit the stage for "The Maybach Massacre" featuring Waka Flocka Flame at Uno Lakefront Arena in New Orleans. This year is looking good for Mr. Ross, who began production last week on the video for his single, Rich Forever from his upcoming mixtape of the same title.  The video reportedly features Meek Mills, Drake, DJ Khaled and French Montana.
Bow Wow: The Young Money artist took to Twitter to confirm that he would be embarking on a world tour in 2012 in to promote his album, Underrated. He's planning to hit North America, Europe, Africa, Australia, Japan and South America, but no official confirmation has surfaced.  Only time will tell if Bow Wows global bounce back comes to fruition, or is just wishful thinking.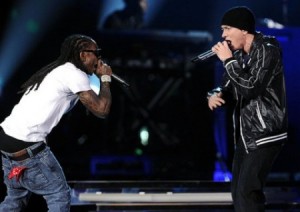 Lil Wayne & Eminem: Though no dates have been confirmed, Eminem and Lil Wayne are rumored to be coordinating an international tour together for 2012.  Weezy first announced the news in November on his Facebook account, posting Headed to Fiji, Australia, then S. Africa¦on tour with Slim Shady¦a blessing¦thx to those who supported C4! 2x platinum! Love y'all With his album, The Carter 4 going double platinum, and Eminem being the show-stopping performer he is, there's no doubt this tour will be the hottest ticket in town.  The two already have numerous successful singles under their belts, including No Love, Drop The World and ˜Forever.