When asked to describe the latest material from Hatebreed, frontman Jamey Jasta replied "all pit, no shit." This morning the legendary hardcore act released a lyric video for their newest single, "Put It To The Torch," and it turns out Jasta was indeed telling the truth. If you're sitting at home or in an office, you may want to push away from your desk before viewing the video below because he likelihood of deskmosh has rarely been higher than it is about to be.
Hatebreed will release their new album, The Divinity Of Purpose, on January 29, 2013.
If you enjoy Hatebreed, check out OS artist Ten Ton Hammer!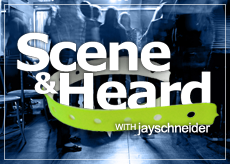 Almost a full year ago, our resident metal head Munson the Destroyer decided to delve into the passionate hardcore scene of Paris, France. He conducted an interview with OurStage hardcore rock act Danforth. While they mentioned that the Parisian hardcore scene in particular is rather small, we decided we'd get back in touch with them to dig a little deeper and find out about Paris's music scene as a whole. This also happens to be the last stop in our multi-city, multi-country, transcontinental trip on Scene & Heard. This week, we are glad to bring you the music of Paris, France.
In terms of the arts, Paris is one of the most influential cities in history. French music has been characteristic and respected in every era of artistic revolution " in the Renaissance,  Baroque, Classical and Romantic eras, all the way through to today. Concert and art music have evolved through many forms in the city, seeing the pioneering of the electronic art music of the 1900s called musique concrí¨te. The Paris Conservatory of Music remains one of the top international schools for composition and performance.
Of course today the popular music realm in Paris is just as relevant as any other major market. French artists seem to identify pretty passionately with their music scenes and tend to opt for promotion/performance within France rather than abroad. Artists like Gojira, Phoenix and Daft Punk hail from Paris itself. In terms of venues, Paris has an abundance of performance spaces to offer. Elysée Montmartre hosts international acts like Jason Derulo, Broken Social Scene and Spoon as well as French acts like Collectif Métissé. For huge arena shows, head to Bercy to the Palais Omnisports. This sporting arena also hosts musical acts like Shakira, Guns N' Roses and Ozzy Osbourne.
Of course, to get a closer look, we'll turn again to a local OurStage band. Danforth has some interesting perspectives on the scene. For a band . . . it is better to catch regular organizers [of shows] and plan early, they advise. For a visitor . . . head to the Oberkampf and Pigalle areas where there are many venues and bars. In general, the band seems to constantly reiterate how dense a scene it really is. It's crowded, full of mixed genres, all in a small radius. In terms of Paris hardcore, they say, It's a small scene if you look at other countries like Germany or Belgium, but it's very rich and full of life and energy! The band reiterates the Elysée Montmarte as one of their favorite venues as well.
Danforth is in-your-face driving hardcore with a heavy dose of street hXc as the band puts it. They describe their own influences as a mixture of metal, hardcore and French hip-hop " truly supporting the eclectic nature of the scene in which they began. The band have shared the stage with Hatebreed, Agnostic Front, Walls of Jericho and Skarhead. With groovy breakdowns, fist-clenching shouts and a touch of hip-hop, it's not surprise that they've also been featured on French and German television and short movies from around the world.
Currently the band is promoting the recent video for their song "Predator." When we last left off, they had only posted a teaser online. Well, we are pleased to present you with some true Paris hardcore flavor; here is Danforth's full 3D video:
Danforth are gearing up for more touring through the end of 201o and plan to release a new album in 2011. Keep an eye out for that. As for Scene & Heard, it's been a long ride and we've seen a lot of great cities, passionate artists and signature vibes. We hope we've inspired you to step outside the comfort box that is your hometown and see what the rest of the world has to offer.