As great as 2011 has been, it's time to start fresh. So, while you're making your New Year's resolutions, start thinking about what music will be your soundtrack to 2012. Here are some of the voices we're looking forward to hearing more from in the year to come!
Paramore, who made news in late 2010 for their split with founding members Josh and Zac Farro, are scheduled to release a full-length album in early 2012. So far, we've heard singles "Hello Cold World", "Renegade" and most recently "In The Mourning". Still, we're wondering how the full-length album reflects any change in the band's style. And it'll be particularly interesting to see if Hayley Williams' voice is strong enough to keep fans hooked.
We're also looking forward to having John Mayer's voice back in 2012! His fifth studio album, Born and Raised, which was initially scheduled for the end of 2011, will now be coming out in 2012, as soon as Mayer's voice has completely recovered. And since the album's already mostly completed (just missing vocals) it looks like we don't have too long to wait!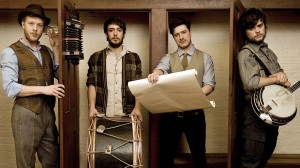 Mumford and Sons won't be keeping us waiting much longer either. According to the band, their next LP will be more mature, sounding a bit like "Black Sabbath meets Nick Drake". And after the success of Sigh No More, its hard for us to imagine the band's follow-up being anything less than great. Our fingers are crossed. (more…)