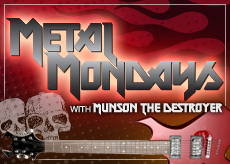 Contrary to popular belief, many metalheads have hobbies outside of worshipping Satan and headbanging. One hobby that seems to be be a popular one is cooking. In the last couple years, multiple metal-themed cookbooks have been released. There is a mobile grilling truck named after a Metallica album, and a blog devoted to devising cupcake recipes based on metal bands and albums. One thing is certain: metalheads clearly love the culinary arts.
November 29th, 2009 marked the release of Hellbent For Cooking " a compilation of 101 favorite recipes of metal bands such as Kreator, Judas Priest, Anthrax, Death, Gorgoroth and more " assembled by Annick Giroux. The book features all types of dishes for different meals, including over thirty recipes from outside of the US and Canada. It's available through many online retailers, such as Amazon, so get your copy now!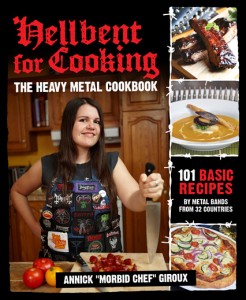 Mosh Potatoes is another similar cookbook released a little over a year later. It features favorite recipes of famous metal musicians such as Jason Bittner of Shadows Fall and Lemmy of Mí¶torhead, but it also includes anecdotes and liner notes from these bandss and artists "making it much more than just a cookbook. You can also find this one on Amazon.
If you're not looking to cook your own food, you can always grab food at the Grill 'Em All truck when it rolls into your town. The Grill 'Em All truck is exactly what it sounds like: a metal-themed truck that serves grilled food like the Behemoth burger, which is a burger topped with grilled cheese buns, smoked cheddar, applewood smoked bacon and beer-soaked onions. Check out more deliciously metal items on Grill 'Em All menu. To find out where the truck is, you can check their Twitter page or Facebook page.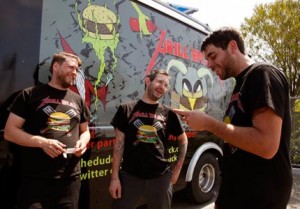 If, after all that, you've still got room for more, why not top it off with dessert? Check out Metalcakes for some inspired treats. Metalcakes is Kathy Bejma's blog devoted to custom cupcake recipes of all kinds, each themed after a metal band or album" like the "Edible Autopsy Cake" and "Black Sweets of Vengeance". As of December 1, 2010, Kathy has amassed thirty-six posts to her blog, each including "Metal Constituents" (ingredients that is) and "Merciless Instructions" (otherwise know as baking directions). The tag line is "Brutally Delicious". Doesn't that just say it all?
So, if you're a metalhead and you love food, just know that there are tasty ways of getting your fix besides music.