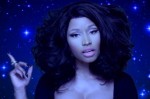 In the years since she first graced the charts, Nicki Minaj has transformed from a streetwise lyricist into an all-out pop diva (who only sings part of the time). Her latest single and video, "High School," looks to help maintain her reign on the charts, and something tells us it will probably work.
You never really know what to expect when a new Nicki Minaj arrives. Her singles catalog ranges from heartfelt ballads to bombastic rap anthems flooded with her multiple rapping personalities and glitchy studio effects, "High School" falls somewhere in the middle. It's a soft track, intended to convey feelings of forlorn love, but the verses keep prove Nicki and guest vocalist Lil Wayne have kept their rhyme game tight since the last we heard from them. This middle of the road approach should help Nicki appeal to all side of her fan base, which in turn could propel "High School" toward the top of Billboard. Listen and decide for yourself, after the jump. (more…)
If you're a teenage musician, chances are you have a few original songs that you play for friends and family, and maybe you score a gig here and there. If you're lucky, you might even get a chance to record your material. Of course balancing high school, adolescence and artistic potential all at once can become overwhelming at best. However, if you're a teenage musician and your name is Mia Boostrom, you've already performed in front of millions of people. Playing a range of gigs, from open mics in suburbia to reality television competitions and professional sporting events, 16-year-old OurStage artist Mia Boostrom seems destined for future stardom"did I mention she already has an EP under her belt? And unlike many artists who stumble into the national spotlight with a pretty voice but limited songwriting capabilities, the original compositions displayed on Ms. Boostrom's profile page actually deserve attention. With such natural talent in our midst, I couldn't help but sit down with Mia and ask a few more questions about teen life in the national spotlight.
OS: Musically, you've accomplished more in your 16 years than the vast majority of everyone else who's ever tried to make it big in this industry. When did you first start playing music?
MB: I started playing music when I was 8-years-old. I picked up a piano class at my elementary school with my music teacher and from there I continued into voice lessons at the age of 11. I only recently started to become a songwriter at the age of 15 when I got my first guitar.
OS: From singing at professional sporting events to reality TV shows, I'm beginning to think you don't know the definition of stage fright. What was it like going from performing open mic nights in suburban Massachusetts to singing the national anthem for the Celtics?
MB: Moving from open mics to national stages was a huge jump for me. Even now, I still get the occasional case of butterflies but instead of nerves I try to channel it into my performance. The whole aspect of getting to larger stadiums helped me so much as a performer and an artist, and I'm so grateful for it.
OS: What was more nerve wracking; playing in front of thousands of rowdy sports fans in an enormous arena or playing in front of a panel of opinionated celebrity judges on America's Got Talent with millions of viewers watching from home?
MB: When you're out in front of a crowd of people you are living in the moment. During the Celtics game no one is critiquing you or judging you against another performer. Reality TV is much more nerve-wracking. You have to have tough skin and deal with constructive criticism, and with the knowledge people are judging you from their couches. Thankfully, I had an enormous amount positive feedback and an incredible support system, not only from America, but from the other contestants who became some of my closest friends.
OS: The actual reality of these musical reality shows remains a mystery to a large portion of viewers. Did you have any real freedom to perform whatever material you wanted?
MB: Working with reality television was a wonderful experience. We did get to choose our own music and from there myself and the show picked a song to fit both myself and the success of the show. In all, there is nothing bad to say about reality television. Even after being eliminated, I came out with only positive feelings toward the show, the judges and the crew.
OS: What was the atmosphere like between competitors? Were you guys all supporting one another or gunning for each other's throats?
MB: The contestants became my closest friends. We all sat through hours and hours of waiting to get interviews and wardrobe. But during those grueling hours, we got to know each other and become incredibly close friends. The most heartbreaking part of being eliminated was not me leaving the competition. It was, the fact I had to separate from the contestants who I care about deeply. We ultimately forgot we were competing and instead supported each other as much as we supported ourselves.
OS: A quick listen to the original material on your OurStage profile page will reveal not only a talented vocalist, but a gifted multi-instrumentalist as well. Being able to play two instruments fluently, do you have different lyrical criteria for songs where you play guitar and songs where you play piano?
MB: Thank you! But no I don't have any certain criteria for piano versus guitar. Depended on how my mood is, or which instrument I'm favoring that day!
OS: There are plenty of young female singer-songwriters in the world. What's your X factor?
MB: With all the young female singer-songwriters I try to stay as original as possible. I'm kind of an old soul. I like old jazz, blues, ballads and folk. As much as I want to fit in with other 16-year-old girls, I know that I enjoy the songs of generations past. I would say my X factor would be my classic but contemporary style. I tend to wear my heart on my sleeve and it comes across in my song writing.
OS: Your debut EP was released last fall, anything new in the works? Would you say your new material is traveling in the same direction as the old songs?
MB: I have been writing NON-STOP. I've been extremely busy with America's Got Talent over this past summer, so I haven't jumped into a recording studio quite yet. And don't forget us 16-year-old girls still have homework! Yuck! I'm trying to balance it all and hopefully a CD will be on the way with all new original tunes!