The future of Guitar Hero has looked uncertain since the holiday season. First Harmonix, the co-creator of Guitar Hero along with RedOctane, was sold off in parts by Viacom. Then Harmonix collaborator, MTV Games,  was closed down earlier this year. However, the nail in the coffin was likely the poorly-received sixth title of the series, Guitar Heros: Warriors of Rock, and subsequently Activision's reported $233 million net loss for the fourth quarter.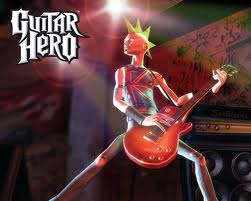 Mashable speculates that the main cause of Guitar Hero's demise was oversaturation. Between Rock Band, Band Hero and DJ Hero, there are simply too many games in the genre that require expensive (and rarely compatible) controllers. Besides the financial obstacle, the novelty factor of Guitar Hero has worn thin as well. With minimal changes between titles and a shortage of new classic rock anthems to include, gamers have begun to look elsewhere for their shredding needs. Despite all of that, Activision said in a press release that their decision to shut down the Guitar Hero division was "due to continued declines in the music genre."
But how will this affect the music industry, you ask? Good question. Music Week's specialist Eamonn Forde thinks that record companies, despite making a lot of money off their partnership with Activision, will quickly replace the revenue stream. "There are other areas for these companies to move into, be that social gaming or apps for mobiles," he says.  "I think we may see some music games"that aren't based on dance"make use of Move and Kinect next year. I also believe you will see a whole new wave of games for iPad and other touch screen devices. There's a huge opportunity for music companies to get in front of millions of customers via social games, without the player needing to shell out $40 or more to do so. These games are a lot cheaper to develop and you can get them in front of a mass audience quicker."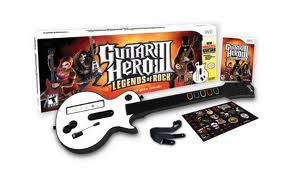 Not everyone is as optimistic as Forde, however. Hypebot points out that Guitar Hero was able to achieve some things that the music industry has struggled with. For example, the video game series created cross-over hits, exposing both serious and casual music fans to unfamiliar genres. It also helped to reignite guitar culture. Guitar Hero taught kids the significance of the solo, and familiarized them with classic rock legends in a way they hadn't experienced before. Additionally, it provided a serious spike in sales for the songs featured in the games. According to Hypebot, every song included in the Guitar Hero III title saw a sales increase between 15% to 843%. Guitar Hero's days may have been numbered for some time, but we're still sad to see it go.
It's no secret that MySpace, a News Corp.-owned social media Web site, has been struggling in recent years.  According to Hypebot, 54 percent of US internet users were on Facebook, while only 27 percent used MySpace as of December 2009. That being said, MySpace let about half of its US workforce go last Tuesday" roughly 500 employees. There is speculation that News Corp. is trimming down MySpace to make a more palatable deal should they choose to sell. According to Business Insider, Yahoo in particular may be interested in purchasing the company.
This is not the first time that MySpace has suffered major restructuring. Owen Van Natta, ex-CEO of the social media giant, cut nearly 30 percent of its employees in July of 2009. He, too, was replaced  the following February. Despite the rumors that suggest News Corp. is packaging MySpace to be sold, MySpace officials had no comment on the subject. However, CEO Mike Jones did say "Today's tough but necessary changes were taken in order to provide the company with a clear path for sustained growth and profitability" in a statement last Tuesday.
The layoffs were spread out evenly throughout the company, says TechDay, except for the massive reduction in international employees. Jones maintains that despite the smaller audience for the site, their new strategy is based around more effective advertising. "The new organizational structure will enable us to move more nimbly, develop products more quickly, and attain more flexibility on the financial side," Jones said. "We are also committed to rebuilding the company with an entrepreneurial culture and an emphasis on technical innovation."
So how will this affect musicians on MySpace? Hard to say. With half of MySpace's staff gone, users may expect a decrease in customer service and tech support. While Jones claims a more nimble organizational structure, they're still operating with half of the manpower that they had just a week ago. It seems unrealistic to expect the same level of support during this transitional phase for MySpace. On the other hand, if Jones follows through with his promise for a focus on an entrepreneurial culture and technical innovation, then this massive layoff may provide MySpace with the cash it needs to make some significant changes.
MySpace has dominated the social media music scene in recent years and has launched the careers of more than a few musicians, but Facebook, YouTube and other similar sites have been positioning themselves for a music coup d'état should MySpace falter. MySpace knows the importance of their musicians, however, and doesn't plan on relinquishing control just yet. We will continue to be absolutely committed to supporting musicians and will continue to create new tools and opportunities for them to build their fanbase and manage their communications, the senior vice president corporate communications told The Music Network. MySpace is in the hot seat, and the coming months will reveal how well they can adapt in order to survive.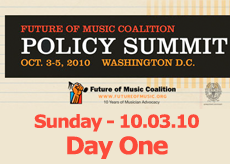 In 2000, The Future of Music Coalition was formed as "a national nonprofit organization that works to ensure a diverse musical culture where artists flourish, are compensated fairly for their work and where fans can find the music they want," by Policy Director Michael Bracy, General Council Walter F. McDonough, Executive Director Jenny Toomey and Technologies Director Brian Zisk. Over the last ten years, the non-profit organization has held a variety of events"including its annual policy summit"which gathers together music industry professionals, musicians, thought-leaders, entrepreneurs, lawyers and US legislators to discuss the music industry and the changes that come into play thanks to the ever-evolving and maturing Internet. For more information, visit Future of Music Coalition.
This year, OurStage is front and center in DC and will be bringing you daily updates, tips and tools from the Summit. Enjoy!
It comes as no surprise to musicians any more that they need to manage their own careers in a different way than they used to. Instead of making great music, then trying to obtain a manager, a publicist, an agent, a record deal, etc., events like FMC's Policy Summit help educate musicians about how they are going to manage their own careers. To paraphrase Amaechi Uzoigwe of Definitive Jux Records on Sunday, "being a musician today is like running a small business." At OurStage, we want to encourage musicians to use our platform and various tools to advance their musical career so that they can grab hold of another rung and move up the ladder of success.
This year, FMC's 10th anniversary kicked off Sunday, October 3rd with a mix of panels and discussions including marketing, copyright, health insurance, analytics data and direct-to-fan campaigns. You can view the full schedule and speakers online, but OurStage also wanted to share some specific links for today's musician. As they say, knowledge is power, so we want to empower you to take control of your music career!
Copyright and Register Your Work
1) Register your work with US Copyright Office
2) Register your work with Soundexchange for digital performance royalties
3) Learn more about the Music First Coalition
Read and Stay Informed
1) Read Donald Passman's book Everything You Need to Know About the Music Business
2) Read daily newsletters and music business web sites like Hypebot, Digital Music News and Sandbox.fm
3) Join the Pho Listserv
Marketing
1) Grow your numbers on Facebook, Twitter, MySpace, YouTube and OurStage (of course!)
2) Write a blog about your work on Blogger, Squarespace or WordPress
3) Read Mashable to stay informed about trends and news in social media
4) Capture your audience's mobile info via services like Twilio
5) Make your music available via services like Soundcloud and Bandcamp
6) Learn from online marketing and publicists like Ariel Hyatt (Here's an interview with Ariel Hyatt about online marketing and publicity)
Manage Your Audience/Email Lists"and Treat Them like Gold!
2) Nimbit
3) Topspin
4) Bandzoogle
6) Mailchimp
Manage Your Projects
2) Basecamp
3) Things (for Mac)
Track Your Online Marketing and Success
1) Use Google Analytics on your site; it's free and easy to use
2) Use bit.ly to track click through traffic from your tweets
3) Try and explore online tools such as Next Big Sound, Soundscan and Shopify
4) Track your iTunes numbers
Get Health Insurance!
1) Artists Health Insurance Resource Center
3) Office of Consumer Information and Insurance Oversight
We hope this helps you as you manage that "small business" of your own. Stay tuned for news and updates on OurStage.com's Marketplace, a new suite of tools for working musicians to help you manage your career.
Find more links and insider info on the Summit follow us live over the next two days at The Future of Music Coalition's Summit 2010.