Boston posi-core fans, dawn you now your gay apparel, for tonight Glamour Kills clothing company is hosting one of the biggest alternative/pop-punk shows of the season, A Very GK! Holiday Festival. According to the festival Facebook page, the lineup and estimated set times are as follows: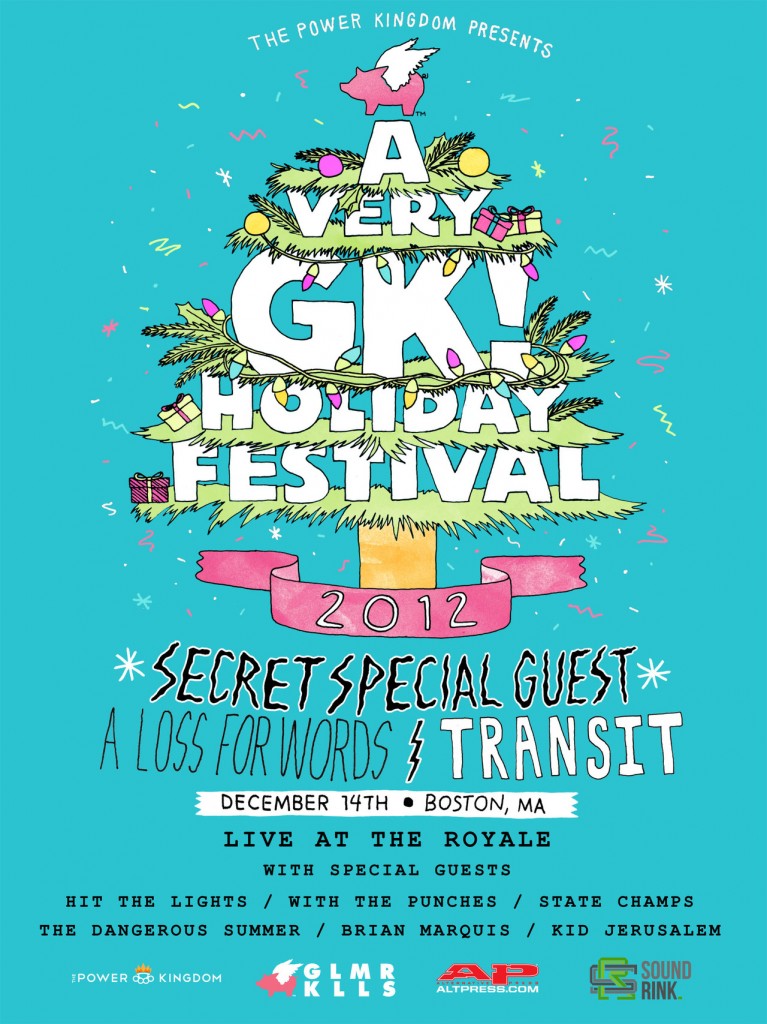 10:15 – END = The Wonder Years
9:30 – 10:00 = A Loss For Words
8:45 – 9:15 = Transit
8:00 – 8:30 = The Dangerous Summer
7:20 – 7:45 = Hit The Lights
6:50 – 7:10 = With The Punches
6:20 – 6:40 = Brian Marquis
5:50 – 6:10 = Hostage Calm
5:20 – 5:40 =
I Call Fives
4:50 – 5:10 =
State Champs
4:20 – 4:40 =
Kid Jerusalem
3:50 – 4:10 =
Premiere
This is actually the third out of four dates in the U.S. this month. The first one, headlined by
Set Your Goals
, was on December 2nd in Oakland, CA, and the second was on December 8th in Chicago, IL, headlined by
Chiodos
. After tonight, the festival will close out the season with one last show this Sunday December 16th in Poughkeepsie, NY. The lineup will be very similar, with
Matchbook Romance
,
Anadivine
, A Loss For Words, Hit The Lights, With The Punches, State Champs, The Dangerous Summer, Kid Jerusalem,
Young Statues
, Brian Marquis, and
Class Of 92
.
More Like This:

In a scene where bands can easily cling too tightly to restrictive genre conventions, Massachusetts pop punks A Loss For Words stand out as a group who aren't afraid to take chances. Known for delivering tuneful, aggressive pop punk, they have also taken detours into acoustic EPs and even released an album of Motown cover songs in 2010. Upon the release of AL4W's most recent acoustic EP, Returning To Webster Lake, singer Matty Arsenault sat down with us to talk collaborations, covers, and the status of his R&B side project.
OS: There's a video floating around of a guy proposing to his girlfriend during one of your Warped Tour sets. How did that whole thing come about?
MA: Our drummer, Christian, met the kid when he was in a band called I Call Fives.  He stayed in touch, was a fan of our band, and wanted to do something special.  He talked to Chris and we OK'd [it].  It's pretty hard to say no to something like that…. (more…)