Bucky Covington was riding high in 2007 when his self-titled debut album debuted at No. 1 on Billboard's Country Top 75 chart, the biggest unit debut from a country artist that year. Covington's album also had the best first week sales and was the highest Top 200 debut from any new country artist in 15 years. Several singles from that album hit the Top 10 on the charts. But the finalist from the fifth season of American Idol hit bumps early in his career when his label Lyric Street Records closed and he was unsigned for more than a year.
Now signed with E One Entertainment, he is touring behind his new single "I Wanna Be That Feeling," from his next album I'm Alright that will be released later this year. Fans can hear the new songs and his hits this summer as he travels the U.S. on his Hometown Tour.
Covington recently chatted about his new record label, his album, and just why he's such a great guy to his fans.
OS: Life on the road has to be so different. I think I'd be exhausted all of the time!
BC: Yes, it was when I first went on the road. It was weird to be moving [on a tour bus] when I was sleeping!
OS: Carrie Underwood is just one of the country stars that has made her way into the major leagues after being on American Idol. But I know some people still think that's an easy way to get into the music industry. What's your response when people say that?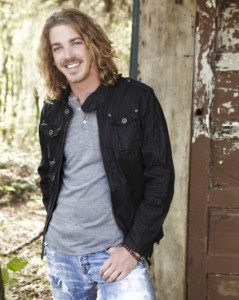 BC: When you come off a show like American Idol, they say you don't pay any dues. But that isn't true! My [first] label [Lyric Street Records] closed and I was unsigned for about 1 1/2 years. Now I'm with eOne [Entertainment One, a Nashville label].  It was a difficult time [when I was unsigned]. Hey, dues paid. The way I see it, coming off a great show like American Idol, has been fantastic. It was great to have my [2007 debut] album do so well and I was as happy as a lark. But it's not as open and shut as people think. It  took me about 1 1/2 years [before I signed with another record label]. Once we got the contracts and all those things signed and behind us, I was very happy. The biggest thing is that I enjoy the label but there was a lot of stuff I skipped. So I didn't know anything about the business [when I first entered it]. I've had to catch up. When you trade anything for money, it becomes a business. And there are a lot of different levels in the business. When my [first] label shut down, all I could think was "Now what the hell do I do? Where do I turn?" I didn't know which way to turn, but I was sitting back and learning a lot. Now I've got a new record label, a business management company and am very, very happy.