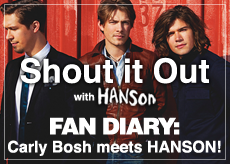 When I first found out that HANSON was going to be partnering with OurStage to hold opening band contests for each stop on their "Shout it Out" tour, I thought, "Great!  I love getting to check out new music!"  I have loved HANSON since I was in fifth grade, and whenever they're on tour I usually make it a point to see them at least a couple of times, so I knew I was going to be interested in the outcome.  I was already familiar with the way OurStage works, as I had judged other channels in the past, and I think it's a really fair and effective way to determine the most talented and deserving artists within any given category.  Then, on top of that, when I found out that OurStage was ALSO giving away two tickets and a meet and greet session with the band for each show, I was all that much more excited to participate in the voting process.  Although I'm from Massachusetts, I had planned on going to see HANSON and A Rocket to the Moon in Sayreville, NJ, so I made sure to judge that channel all throughout the month of June.  Fortunately for me, all that listening paid off and I was selected as the fan winner for the show!  I was beyond thrilled!
I have been fortunate enough to briefly meet HANSON a few times over the course of my travels as a fan, but I had never met them in such an intimate setting before.  I was a little nervous but really excited on the day of the show.  My friend Michele and I arrived to the Starland Ballroom about an hour and a half before doors, and in addition to the two of us, there was also a group of HANSON fans who had won meet & greets through their fanclub, so we all waited around together until a little before doors opened when we were brought inside to meet HANSON!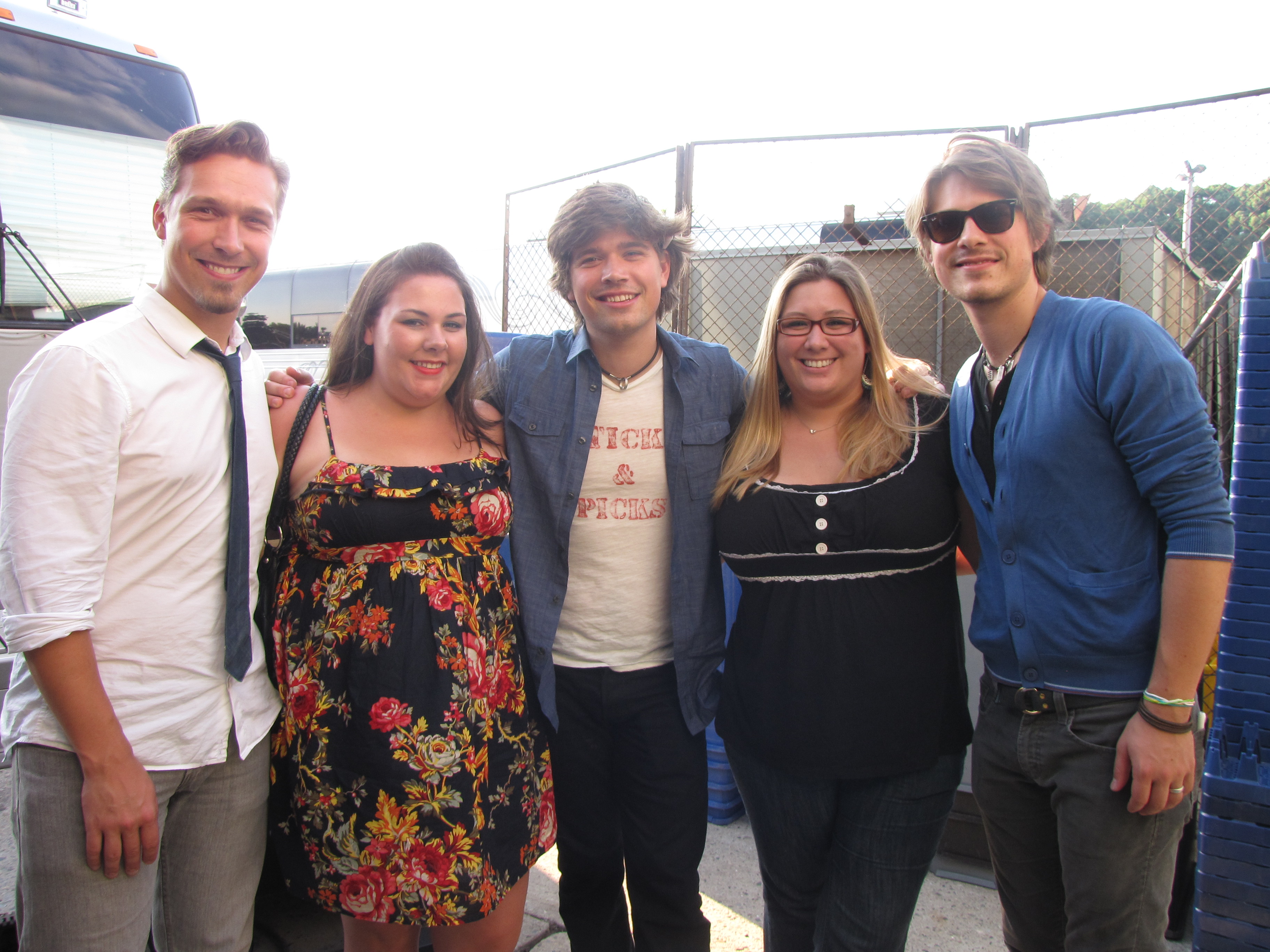 The fan clubbers had some time with the band first, while Michele and I waited over to the side and watched them interact.  After a few minutes they had finished, and we had our time with Isaac, Taylor and Zac.  I have to say, every time I have had the chance to speak with any of the guys from HANSON, they have been more than welcoming.  HANSON's music has had a huge influence on my life, so you would think it would be hard for me to even form words around the guys, but they are so down to earth that it feels more like talking to old friends than meeting my idols!  We took our group picture and then I asked the guys to sign a photobook that I had brought with me.  There was a little debate on whether they should sign the front or the inside, so they ended up signing both.  Haha!  We talked for a few minutes, and I put in a request for them to play their song "I Will Come to You" during the show that night.  The meet and greet ended with a round of hugs, and then Michele and I walked back through the venue to the stage.
Doors were already open by the time we were finished, but they must not have been open for long because the 2nd row over to the side was still open!  Free tickets, a meet & greet, AND a great spot for the show?  Incredible!  And then on top of all that, the whole show was fantastic!  The OurStage opener for Sayreville was called Brightside Drive and they were really talented.  They had a really upbeat pop/rock sound that was perfect for getting pumped for the rest of the night.  I definitely enjoyed their set and would encourage other people to check out their music.  A Rocket to the Moon went on next, and I was really excited to see them play.  I have not been able to stop listening to their album On Your Side since it came out last fall, and they performed quite a few songs from that record, including their song "Like We Used To" which is one of my favorites, so I was stoked.  They started things off with a stellar cover of Tom Petty's "American Girl", too. I loved it.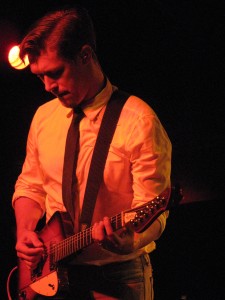 Finally, HANSON came onstage.  At this point, I have been to over 30 HANSON concerts, and I think this one takes the cake for my favorite show and setlist.  They played quite a few songs from their newest album Shout it Out, in addition to a bunch of old favorites, plus a couple of rare songs and some great covers as well.  It was just an overall great, well-rounded show.  Highlights included "I Will Come to You" (which I had requested that they play during the meet and greet), Taylor's solo "Never Let Go" (one of my favorite songs"this was my first time hearing it live), "More than Anything" (a rarely-performed ballad from back in the day), "Thinking 'Bout Somethin'" (Hanson's new single), "Penny & Me" (a fan favorite), and a cover of Sam & Dave's "Hold On, I'm Coming".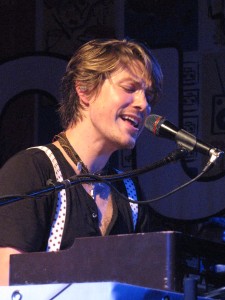 It was an incredibly high-energy performance, enhanced by the crowd's enthusiasm and singing along with every word.  HANSON ended the show with a cover of AC/DC's "It's a Long Way to the Top (If You Wanna Rock & Roll)".  Taylor jumped up on his piano right above where we were standing in the crowd, and then at the very end of the song both Zac and Taylor jumped off the drum kit.  It was absolutely amazing!  What a great way to end the night. I could not have imagined a better day, between the meet & greet, the awesome opening bands and HANSON's incredible setlist and performance.  I don't know that it will ever be topped. I have to send out a HUGE thank you to HANSON, and especially to OurStage.  You guys are the best!  Thank you so much for this opportunity!
-Carly Bosh