Last week, the music industry lost a female veteran when Ms. Melodie of Boogie Down Productions died on Wednesday. Her 1989 release Diva made her one of the first emcees to spit alongside the heavy-hitting male rappers of the day, like ex-husband KRS-One.
The loss made me reflect on today's female rappers, and the position they hold in the hip-hop world. Aside from Nicki Minaj, it seems that female rappers have all but disappeared from the mainstream landscape over the past few years.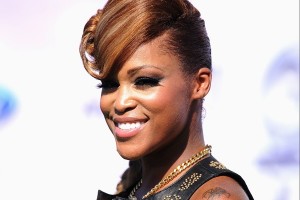 But times may be changing. The days of Lil' Kim and Foxy Brown may be over, but a slew of new spitters have been staging some serious attacks, and a few familiar faces are poised to return, ready to make a big impact on the rap game.
Eve recently announced plans to release her oft-delayed project Lip Lock this fall. It will be her first album since Eve-Olution hit the streets 10 years ago. If things go her way, the former Ruff Ryder will be rocking radio waves again, showcasing her sick rhyming skills and ever-present ability to get a party started with her sexy but scathing style. She recently made her first-ever appearance at the Essence Music Festival in New Orleans and received a warm welcome from legions of loyal fans who can't wait for her return to the mic.  (more…)