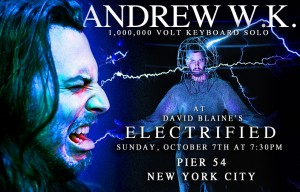 Happy-go-lucky party-rock guru Andrew W.K. will be helping illusionist David Blaine with one of his most daring stunts yet. W.K. will be performing a solo on a keyboard that will send one million volts of electricity through Blaine's body. SO BRUTAL.
According to Rolling Stone, "W.K. will rock out on a keyboard powered by seven towering Tesla coils that will surround Blaine," who will be standing on a platform 20 feet above New York's Hudson River Park Pier 54. "The million volts of rockage will stream around and through Blaine for three days and nights." Of course, Andrew W.K. cannot wait for this once-in-a-lifetime experience as he exclaims, "I'm absolutely electrified and terrified by the opportunity to play a keyboard solo with so much energy, and to use this incredibly powerful device to send a musical surge through David's brain! I just hope he can withstand my high-powered party piano playing!"
The event is called Electrified and will start with W.K.'s performance at 7:30 tonight. As part of Blaine's Ultrabook Experience partnership with Intel,"fans will be able to control the coils through Ultrabook stations located in various cities around the world." If you want to see it for yourself, the stunt will be streaming live here.
If you like Andrew W.K. then you might also like OurStage artists SLANG FOR DRUNK.
More Like This: