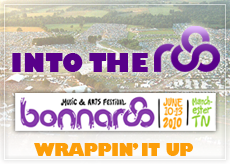 The last day of Bonnaroo was fairly laid back. Still drained from the unrelenting heat, we took the morning off and waited to head out in the afternoon to see Blues Traveler. We weren't the only ones with this idea. As the band finished their set with a slow and spooky rendition of Radiohead's "Creep," it was clear why they still have such an impressive draw. Afterwards, we made our way across the grounds with John Fogerty in our sights, but we crossed paths with Against Me! and Regina Spektor along the way.
Punk rock has had a strange resurgence in the last year, and like the genre, Against Me! has made many adjustments in its return to the spotlight. In 2002, Tom Gable performed with nothing more than an acoustic guitar, rough voice, bassist and drummer. Gabel has since graduated to electric guitars and a keyboard played by former Hold Steady member Franz Nicolay. Distraught punks could smell sell-out as Gable moved to a major label and started playing to a more "suburban" audience. But as Against Me! belted out the powerful and revolutionary lines of "I Was A Teenage Anarchist" to rebels swaying in the audience, it became apparent that "being punk" is and will always be a state of mind. (Check out OurStage's review of the latest from Against Me!, White Crosses.)
Making a drastic genre leap, we moved on to John Fogerty and Zac Brown Band. Fogerty played at 4PM on the main stage, performing all the Creedence Clearwater Revival hits a child of the '60s and '70s could handle. The older crowd danced and sang to "Pretty Woman" and "Down On The Corner". Personally, I had an epiphany as Fogerty sang the lyric "Look at all the happy creatures dancing on the lawn" from "Lookin' Out My Back Door". That single line summed up the entire Bonnaroo experience perfectly.
Zac Brown Band then delivered a heavy dose of country to the roots-friendly festival. Fast-paced jams and tropical country grooves borrowed from Jimmy Buffet made the set fun and festive, but ballads like "Highway 20 Ride" could have been saved for the Country Music Awards.
Dave Matthews Band had the honor of  filling the typical jam-band Sunday night closing spot. Playing material off their latest release 2009's Big Whiskey and the GrooGrux King, the songs sounded like faint whispers of what the hits of DMB past were made of. Fans still danced, albeit sluggishly after the scorching weekend, but soon were reduced to sitting on blankets and swaying in the night heat. If Dave's intention had been to present a rockin' good time, more upbeat tracks would have been nice. But still, it was a suitable close to the festival. As Dave himself said, the set was "the cheese after the dessert. A little sparkling wine."
And so we packed up our things and hit the road, eager to tend to our sunburns and tired ears. And while we're sad its all over, next year no doubt holds all new spectacles for us. After all its Bonnaroo's 10th anniversary…