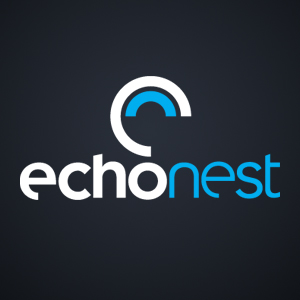 All you music and math nerds out there, prepare to get nothing productive done for the next few hours. Introducing The Infinite Jukebox. Made by The Echo Nest's director of developer platform, Paul Lemere, this webpage/app allows you to listen to any song FOREVER with infinite variations in structure.
It may sound a bit confusing at first, but once you mess around with it you will find that the possibilities are literally endless. Here's an explanation from the app's FAQ page, explaining how it works:
"We use the Echo Nest analyzer to break the song into beats. We play the song beat by beat, but at every beat there's a chance that we will jump to a different part of song that happens to sound very similar to the current beat. For beat similarity we look at pitch, timbre, loudness, duration and the position of the beat within a bar. There's a nifty visualization that shows all the possible transitions that can occur at any beat."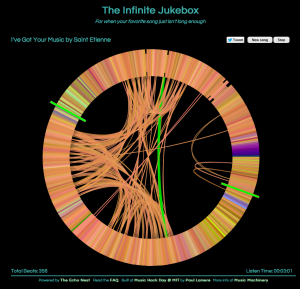 So as the song starts, you will see an array of colors in a circle with what looks like some sort of virtual web spanning within—consider this like a linear soundwave bent into a circle and each colored bar represents a beat. As the song progresses, a line travels clockwise around this circle highlighting each beat. The "web" strands in the middle of the circle are a visual representation of the possible transitions to other parts of the song that sound similar to the current one. The program is designed in a way so that the song will never end but continue to change in structure. There are a lot of great tracks uploaded already, but you can also upload any song you'd like. Even better, you can control the velocity and direction of the song as well as skip to various parts whenever you'd like, basically making your own infinite interactive remix!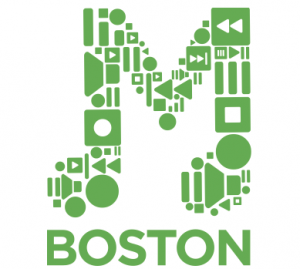 These are the sort of creations that come out of Music Hack Day @ MIT, which is, as described on their website, "an international 24-hour event where programmers, designers and artists come together to conceptualize, build and demo the future of music. Software, hardware, mobile, web, instruments, art – anything goes as long as it's music related."
So click here and have fun with this little toy! We apologize if you become addicted and it takes up the rest of your day.
More Like This:
Electropolis: iPad and iPhone Production Toys
Bitwig Studio: The Future Of Music Production?
Music Stars Who Need A Lesson In Technology