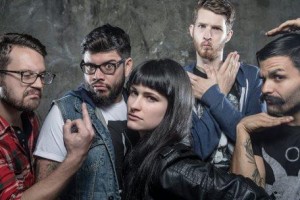 Everyone's favorite spastic metal band has returned, and we dare say they have never sounded so good.
Just six weeks away from the release of their new album, Late For Nothing, Iwrestledabearonce are currently streaming a new song entitled "Firebees." The song comes from the new album, which is the group's first with vocalist Courtney LaPlante, and in typical IWABO fashion offers a flurry of riffs, screams, and crushing chugs to keep you mentally moshing all day long. You can stream the song at the end of this post.
Late For Nothing arrives in stores the first week of August. Stay tuned for additional streams off the new album to surface in the weeks ahead. (more…)

With summer right around the corner, we can't help but be totally stoked for Warped Tour. In case you haven't heard, we'll be sponsoring our own stage for twenty-two dates and bringing twenty-three artists out to perform on it. Twenty-two acts will snag a performance at their local tour stop, and Dallas native Larry g(EE) will be rocking the stage at each and every date. In addition, there are a handful of other OurStage artists already booked to play various dates of the tour. We decided to catch up with them to get the scoop on their summer plans.
Shreveport, Louisiana's iwrestledabearonce don't take themselves"or the metal scene"too seriously, and that may be one of the best things they have going for them. Sure, they may not be for the faint of heart, and you probably wouldn't expect any less from a band with song titles like "Tastes Like Kevin Bacon" and "Karate Nipples." Even so, the group is refreshingly fearless on stage and in the studio, mixing grindcore, electronica, screamo and just about every other genre into their musical melting pot. Led by formidable lead vocalist Krysta Cameron, the band battled sterotyping early on in their career, but have since proved that they can hang with the most metal dudes around. We caught up with guitarist Steven Bradley to chat about what they'll be bringing to Warped Tour, the horror movie they just finished filming, and what they'll be doing when summer ends.

OS: You guys love to mix a lot of different genres and styles in your music. How would you describe your music to those who have never heard it before?
SB: Terrible…beyond that, I don't know. It's heavy music that's not quite as serious as maybe other straightforward heavy bands. Dance, grind, jazz, electronic, terrible…as long as the word terrible is in there.