Chief Keef has been causing quite the stir.
Just last month, his single, I Don't Like shot up the charts after Kanye West added himself, Big Sean, Pusha T, and Jadakiss to the remix. Within days, a bidding war ensued and the youngster was trying to choose between his three front-runners; YMB, CME, and Atlantic among others.
Now, it looks like the new teen dream has finally chosen a home at a major label, making his announcement last week.
"I've been talkin' to a lot of labels, but I just noticed that Interscope got people like 50, Eminem," he said. "They was talkin' like I was talkin' and I liked that. All these other labels, I was talkin' to 'em, but it's time anyway for me and I'm goin' with Interscope."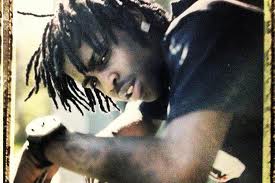 Other interested parties put up a good fight, with heavy hitters like Birdman and T.I. clamoring to sign the sixteen-year-old Chicagoan.  Last month, Birdman sounded confident that he would sign Keef to Cash Money Records.
"I like him, he kinda reminds me of us," he told MTV News. [He's] out the streets, I think he's swagged up and I'm definitely talking to his people and I'd like to see if we can make it pop, see if I can see if I can get him to be down with the team."
Like many others in the rap game, the YMCMG CEO seemed to be impressed by Keef's youthful outlook.