In today's crowded post-hardcore scene, Pierce The Veil stand out as a band who aren't afraid to take risks, try new things, and, most importantly, stay true to themselves. With a sound that combines aggressive guitars, dynamic vocals and the occasional hint of Latin flavor, PTV are sitting comfortably at the top of their genre. The San Diego, California natives released their third album, Collide With The Sky, on July 17th, and have been one of the most anticipated acts to see live on Warped Tour this summer. We caught up with frontman/guitarist Vic Fuentes and bassist Jaime Preciado at the Mansfield, MA stop to chat about the new record, collaborating with Kellin Quinn and why they included hot sauce in their pre-order bundles!
OS: What's been your most memorable experience with a fan so far on the tour?
VF: I guess the most memorable experience would be when they hug me with a ton of paint all over them, and then it stays, so I remember it all day¦
JP: Yeah, it stays. All day. I have had that experience.
VF: Kids just paint their whole bodies…
JP: It's, like, 100 degrees outside and the paint just ruins clothing. Or when girls wear a ton of makeup and you're wearing a shirt, and then next day you see your shirt, and it's got some girl's face imprint on your shoulder.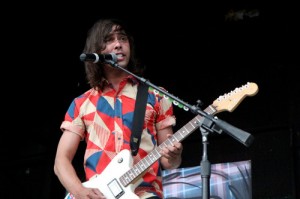 OS: What other bands have you most enjoyed seeing at Warped so far this year?
JP: So many bands. I miss The Used. Those guys were awesome. I like watching Bayside as much as I possibly can, because they're one of the tightest bands on Warped. They're so, so good. And today I actually saw Memphis May Fire for the first time. We're good friends with those guys. They put on a good show. It's really awesome.
OS: Your set at Warped is a lot shorter than a lot of the shows you play. How did you decide what songs were going to make the set list? Does that change from date to date?
VF: Yeah, it was hard for this tour, because now we have three records, and we've never had that feeling, having so many songs. But it's fun though, it's cool, we just decided we've got to at least play one new song, so we're playing the new one that we just put out.