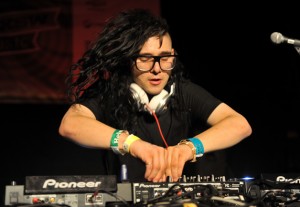 If you don't like buzzsaw synths, wobbles, and heavy bass drops, then you probably shouldn't see Spring Breakers. The comedy, directed by noted independent filmmaker Harmony Korine (Kids, Gummo), stars James Franco, Selena Gomez, Vanessa Hudgens, and Ashley Benson. Though shooting wrapped earlier this spring, the film still needed a soundtrack that would be a mix of weird and flashy, something over the top that's a wee bit subversive. Enter Skrillex.
In an interview with Pitchfork, Spring Breakers music supervisor Randall Poster let it slip that, "Skrillex is doing original music for us." While he didn't go into further detail as to how much Skrillex would be contributing to the film, Poster did note that, "I had heard of Skrillex, but I wasn't watching it that closely. And Harmony, who I've worked with forever, sent me a link to some Skrillex YouTubes, and I saw one had 54 million hits– I thought he had somehow figured out a way to manipulate the numbers."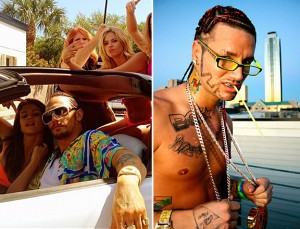 Skrillex, Gomez, and Hudgens aren't the only links to contemporary music that Spring Breakers has going for it. Franco's character, a rapper cum drug dealer named Alien, is based on real life rapper cum glorious weirdo RiFF RAFF (not Kevin Federline). Given all of the potential for blog buzz, it's a small wonder that the hype surrounding Spring Breakers hasn't collapsed into itself and formed a small black hole.
Spring Breakers is scheduled for release in Spring 2013.