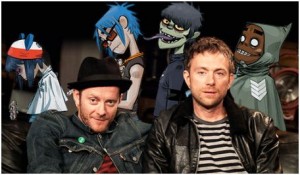 According to RollingStone, Damon Albarn of Blur and Gorillaz has provided clear indication that both bands are reaching their end. In an interview with The Guardian, Albarn was asked if Blur had planned any performance dates after their upcoming and anticipated Olympic closing concert. Albarn responded with, "No, not really. I hope that's the truth and that that's how we end it." The singer also said that "Under the Westway," a new stand-alone single recorded by the band, is likely to be the last studio recording by the band. "I don't really see any more recordings after this," says Albarn. "So it's nice to have finally done one song where we did it properly."
Albarn indicated that the different priorities of his bandmates played a part in bringing Blur to an end, stating, "One thing I've learned, and I'm sure you're exactly the same, is that everything I think I've got totally sorted out, and I know exactly what's going to happen, it never works out that way," he says. "I find it very easy to record with [guitarist] Graham [Coxon]. He's a daily musician. With the other two, it's harder for them to reconnect. You know what I mean? It's fine when we play live " it's really magical still " but actually recording new stuff, and swapping musical influences, it's quite difficult." Rolling Stone reports that the group had been slowly writing and recording new material over the past few years, but only the one-off singles "Fool's Day" and "Under the Westway" were completed and released in that time, according to Albarn.
Albarn didn't let up on the bad news, as he began to doubt on the future of Gorillaz as well, claiming a future for the band is "unlikely" due to a disagreement with his collaborator on the project, artist Jamie Hewlett: "Jamie [thinks Gorillaz is finished], which is fair enough. I think we were at cross purposes somewhat on that last record, which is a shame. So until a time comes when that knot has been untied…"
Continuing, he claimed that the tension between Hewlett and himself initially began when the artist didn't provide much new art for the tour in support of their 2009 album Plastic Beach. "The music and the videos weren't working as well together, but I felt we'd made a really good record, and I was into it. So we went and played it."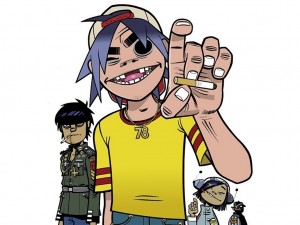 Expect the unexpected. Converse has announced they'll be releasing a collaborative track and music video featuring three top names: Gorillaz, James Murphy, and Andre 3000. Due to drop February 23, the anticipation increased after Seattle 's alternative rock station 107.7 The End posted a making-of video on their show – the Daily Swarm. Here's what we know: it's entitled DoYaThing and the video will be " of course " a hybrid of cartoon animation and film. In addition to this sneak peak, Jamie Hewlett, the cartoonist behind the Gorillaz characters, released a storyboard/teaser of the video. However, the direction of the video remains unclear because of the two additional artists involved. To leave you even more confused than you already are…lets just say, I smash 2-D's face in the wall… and Get out of my bed… (see videos).
Update:
Take out your Converse and enjoy "DoYaThing!" Holding true to the Gorillaz's signature sound, the track's groove is funky and downtempo, but Andre 3000's abstract lyrics and fast rapping style provides the upbeat energy of Outkast, giving the song a truly unique favor.  Also, Jamie Hewlett's input provides some cool electronic sensations. Overall, it's simply a bangin' collaborative tune you've got to experience for yourself. Check it out by clicking the link above and keep on groovin'!
Below is the official making-of video released by Converse, as well as Jamie Hewlett's storyboard:
Having shelved her career as a recording artist in favor of family life, Lily Allen recently revealed to Elle magazine that she has "nearly finished a musical." The musical in question being the stage adaptation of 2001's loveably painful chick flick Bridget Jones's Diary, for which little has been said since last summer. On paper, Allen appears to have all the right reasons for this career shift"a new husband and baby on the way, and a blood line that lends itself to the stage (dad is British actor/musician Keith Allen, who's credits include two Harold Pinter plays at the Almeida Theatre). However, the singer is hardly the first musician making the jump from the Billboard charts to Broadway.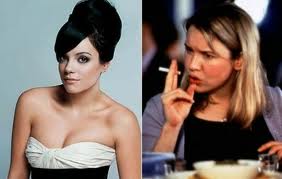 Headlines have been monopolized in the past months by the drama surrounding U2's scored Spider-Man musical. After a series of setbacks including financial problems, injured cast members and scathing write ups, original director Julie Taymor threw her hands up in what we would imagine an exasperated manner and called it quits. Production was shut down for three weeks in March and given a serious face lift by new director Philip William McKinley and went on to rake in $1.7 million in its first week, qualifying it as a "hit." While Spider-Man certainly lends itself to the powerful anthems and epic ballads found in U2's discography, Bono was quoted as saying scoring the show was "harder than we ever thought".
David Albarn and Jamie Hewlett of alt hip hop/rock group Gorillaz have also lent their talents to the stage, creating a musical adaptation of the Chinese story Journey to the West in 2007 which saw several runs over the next two years under the billing Monkey: Journey to the West. After further adaptation of some characters and music for inclusion in BBC's coverage of the 2008 Bejing Olympics was met with criticism, Hewlett went on the defense, tagging negative reviews as hypocritical.
This all begs the question, why are these perfectly successful recording artists putting themselves through the theatrics (literally) of transitioning their talent to the stage? Some could argue ego, Broadway being just another feather in the hat of self-centered stars. Or maybe its the next step on the ladder of conquering the music industry as a whole. We're hoping it boils down to the talent part. Chances are the Bonos and Lily Allens of the world are just incredibly talented human beings always seeking new creative outlets. But while a record is a neatly packaged representation of that talent, Broadway is an entirely different beast with more than one flair for the dramatic that requires its participants have the right amount of screws loose to partake. While Allen may be writing the music for Bridget Jones, we can't really picture the new mom as the star, sliding down a fire pole ass first. Then again, she has been known for her own moments of quirk.