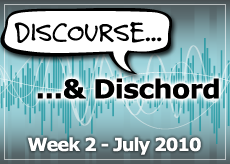 The Good
Prince and Smashing Pumpkins go pro-bono
Claiming the internet is completely dead, Prince announced he will release his new album, 20TEN, for free in the Saturday edition of the U.K.'s Daily Mirror. Two things: Does this mean he hasn't been getting the e-cards we've been sending him? Also: WTF Europe?!? No fair! Luckily we who live stateside have another song from Smashing Pumpkins to soothe our ruffled feathers. This week the band released Freak, the fifth free download from their 44-song project Teargarden by Kaleidyscope. Download it on the band's website. Yeah, that's right Prince, on the INTERNET.
The Bad
Liz Phair + Rap + Bollywood = Exile in Blahville
While the rest of us were eating burgers and watermelon, Liz Phair was busy debuting her first album in 5 years. It's called FUNSTYLE and it was released on Saturday, meaning she must have created the album art late Friday night. The first track is called Bollywood and consists of Phair rapping about being signed to a major label over tablas. Considering that she released a wildly unpopular pop record, Somebody's Miracle in 2005, FUNSTYLE seems like a desperate attempt to reclaim her long-lost edginess. Avant-garde or just plain dumb "you be the judge.
Justin Bieber not going to tour North Korea
This is pretty funny" apparently a spoof site called Faxo.com held a contest letting Bieber fans vote on where the teenage pop phenom should play. Mischievous imps got wind of it and gamed the site, voting North Korea into the Number 1 spot. Alas, our little Biebekins will not be headed over to the Communist nation for a concert. Sorry, Kim Jong-il. Maybe next tour.
The Ugly
George Michael crashes SUV into one-hour photo shop
George Michael was arrested and released after he drove his Range Rover into a one-hour photo store in London on Sunday. British police say the 47-year-old singer was clearly under the influence at the time. Maybe he should go back to performing under the name WHAM! Folks.