When Jason Aldean released his fourth studio album, My Kinda Party, in 2010, little did he know it would launch a wave of awards, kudos and popularity.
Not that Aldean wasn't already lauded by the country music community. Aldean's self-titled 2005 debut and 2009 album Wide Open had both gone platinum and his 2007 album Relentless was gold when My Kinda Party was released.  "Why," "She's Country" "Big Green Tractor" and "The Truth" were among the hits that made Aldean a hot country star.
Yet My Kinda Party not only brought with it more hits, including two that reached No. 1" "Don't You Wanna Stay" (a duet with Kelly Clarkson) and "Dirt Road Anthem," but an Album of the Year award from the Country Music Association (CMA), and three GRAMMY nominations for Best Country Solo Performance for "Dirt Road Anthem," Best Album for My Kinda Party and Best Performance by a Duo or Group for "Don't You Wanna Stay."
Aldean recently took time out to talk to OurStage about the past year and just why 2012 might be even hotter.
OS: What a year you've had! Let's start with the GRAMMY nominations. How did you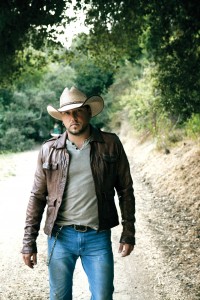 celebrate those?
JA: We performed on the GRAMMY nominations show (on December 7) and then I found out after that show. They came in my dressing room and handed me an envelope and told me I was nominated for three GRAMMYs. That night me and my band, we got on the plane and went back to Nashville and we stopped by the liquor store on the way to the plane. It was a four-hour flight so we had four hours to kind of celebrate. It was a good time. The GRAMMYs are huge for any artist and these were my first nominations for a GRAMMY and so it was pretty exciting.
OS: So what's your celebratory drink of choice?
JA: I prefer any kind of beer. Crown & 7 Up is pretty good, too.
OS: You've said publicly that this is the best twelve months ever. If you could only choose one, what would you say was the main high point?
JA: I think winning CMA Album of the Year [For My Kinda Party]. What that album has meant to my career and done for me over the past year and half or so is amazing. To actually win that award at CMA, my first CMA award, too, being Album of the Year, was a really fitting thing for me. It was a pretty proud moment especially with what this record has done for my career. That [win] just tied it all in to complete the year. It was a pretty special night.
OS: So I watched the show on television and you looked like grace under pressure as they were reading the nominations and then when you accepted the award. What were you thinking and how did you stay so calm?
JA: Well, I haven't been on the receiving end of too many of those announcements! I do sit there and am pretty calm. For whatever reason, [on November 9, 2011] I won the award and it was exciting. My producer [Michael Knox] got to come up there with me and he's the guy who is responsible for finding me in a club and bringing me to Nashville. So it was a really cool moment to be able to share that with him. It was kind of a shocker but it was a really cool thing and probably one thing this year that really stood out for me.