For many people, The Grateful Dead have always been a love-it-or-hate-it proposition. The band's slavishly devoted army of Deadheads (which still exists today, turning up to see Furthur, the band that includes erstwhile GD singer/guitarist Bob Weir and bassist Phil Lesh) connects to the jazzy fluidity of the band's instrumental improv, the killer catalog of classic songs penned by Jerry Garcia, lyricist Robert Hunter, and company, as well as the slightly stoned sense of bonhomie that has always emanated from the psychedelic warriors' core. The Dead's detractors, on the other hand, deem the band's jams overlong and sleep-inducing, abhor the hippie aesthetic the group always embodied, and take issue with their hit-and-miss approach to vocal intonation. Apart from those who have never heard them, almost everyone has a strong opinion about The Grateful Dead, winding up either in the love or hate camp sooner or later.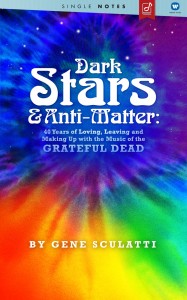 So if someone's going to write a critically-balanced book about the band, who better than one of the few music fans"and certainly one of the only rock critics"who has found himself on both sides of the fence at various points? Granted, veteran music journalist Gene Sculatti (author of 1982's seminal Catalog of Cool and 1985's San Francisco Nights: The Psychedelic Music Trip, among others) isn't exactly objective when it comes to the subject, but among rock writers, he's in a unique position to discourse on the Dead"he was there from the start. I always get caught in the middle, says Sculatti, whose new Rhino eBook bears the self-explanatory title Dark Stars & Anti-Matter: 40 Years of Loving, Leavin, and Making Up With the Music of The Grateful Dead. Because I saw them in the beginning, and most of the records I still evaluate in terms of, ˜Does this resemble the way it was then, live?'
Sculatti first saw the band at San Francisco's famed psychedelic-era venue The Avalon Ballroom in the spring of 1966, about a year in advance of the first Grateful Dead album. That's one of the greatest gifts anyone ever gave to me, says Sculatti, to be there then and see that. You're 18 or 19 years old¦this brand new thing that's never been before is springing up and you happen to be there a couple of feet from it. It's just incredible to read in the paper about some group with a crazy name like Big Brother & The Holding Company or something and go to this place where it was and see it with light shows and everything that accompanied it. And that's when I started writing, because there was a little paper there in Frisco. That was my impetus too for writing about the Dead this time"there were things I hadn't said about seeing them at that time.