I arrived at The Bamboozle Festival on Friday evening, just as the sun was setting over the Jersey Shore. I'd never been to Asbury Park before, so I decided to get the lay of the land before I wandered over to see Incubus. The layout of the festival was much different than it's been the past few years, since it moved a bit farther south from its past location at the Giants' Stadium parking lot.
I caught the second half of Incubus' set and continue to be amazed at how tight they are as a live band…they're as good as their recordings, if not better. One awesome thing about having the festival at Asbury Park is having the Main Stage right on the beach. Watching Incubus play "Wish You Were Here" with my toes in the sand was pretty cool.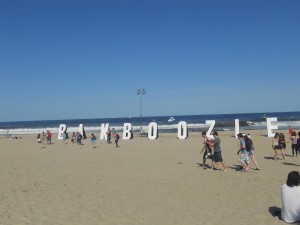 It's always surprising how many more people come to Bamboozle on the second day. By the time I arrived on Saturday afternoon, the beach was packed and people were ready to party. There was a rave on the sand, The All-American Rejects were rockin' out on the Main Stage and I was headed to the Berkeley Hotel to interview Dan Didier, drummer for The Promise Ring. He had some interesting and insightful things to say about the band's reunion and upcoming tour. Keep an eye on OurStage Magazine for the full article!
After the interview, I ran over to the Main Stage to catch Jimmy Eat World and My Chemical Romance (original headlining act Blink-182 had to pull out last minute due to a medical emergency, so My Chem filled in). Jimmy Eat World played a full set of classics and singles like "The Middle" and "Bleed American." They put on a fun and dynamic performance that clearly satisfied their hungry fanbase.
My Chemical Romance has been one of my favorite bands for ten years, so it was a special treat to catch them at Bamboozle and performing in their home state of New Jersey. Playing a great mix of their four albums, the guys were as energetic as ever. Unfortunately, there seemed to be a problem with the live mix, so it was almost impossible to hear them for about half of the set. Even so, the crowd was certainly happy to see them and pleased with the eclectic setlist.