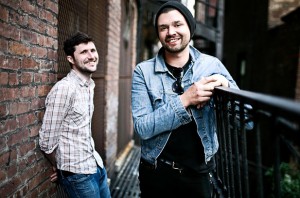 It's hard to believe that Taking Back Sunday has been around for 10 years already, and it's even harder to believe that guitarist and backup vocalist John Nolan wasn't even in the band for about eight of those years. Recently, he and frontman Adam Lazzara performed some acoustic renditions of TBS songs for Baeble Music. In the video for these Baeble Sessions, they also talk about their falling out, what the past decade has been like, and what they have in store.
This is a nice precursor to their upcoming live double album release, which includes both a full acoustic version and a full band version of their breakthrough debut album Tell All Your Friends. Click here to check out the Baeble Sessions video of Lazzara and Nolan performing "Sad Savior," "Your Own Disaster," and "Best Places To Be A Mom."
If you like Taking Back Sunday, then you might also like OurStage's own Seventh Inning Stretch.
More Like This:
Taking Back Sunday To Release 2 Live Versions Of Tell All Your Friends
Exclusive Q and A: Taking Back Sunday Talk Warped Tour Ten Years After ˜Tell All Your Friends'
Living With Lineup Changes

Any fan of early 2000's pop punk knows that Taking Back Sunday's Tell All Your Friends is the go-to warm weather record. Ten years after the album's release, TBS is still one of the biggest bands in the modern rock scene, so it's no surprise that they've been drawing the biggest crowds at Warped Tour all summer. We met up with drummer Mark O'Connell and guitarist John Nolan at the Mansfield date to chat about having icon status on Warped, writing new material and the rumored 10th anniversary tour for their classic debut record.
OS: You haven't been on the Warped Tour for many, many years. What's it like to be headlining the whole thing this year?
JN: I think the weirdest thing is that this band has a status, I think, at this point, amongst the other bands. The younger bands kind of look at us like something. You know, like we're these elder statesmen or something like that, which was not the case, obviously, in 2004. But yeah, it's definitely interesting to be on this tour and to be in this kind of position like that, where bands look at you a certain way, and even the audience, too. But it definitely feels like we're reintroducing ourselves to a lot of people at the same time, which is cool. I mean it's been a good thing all around, I think.
OS: You've never done Warped Tour with the lineup you have now. What's it like to have two new people out this time?
MO: Well he is one of the new people. [points at Nolan]
JN: He gets to talk shit about one of the new guys [laughs].
MO: And he's a new-old guy, the old-new…whatever. But, I can say that it's definitely more fun with John and Shaun [Cooper]. The original lineup.
JN: I personally think the band is much better with Shaun Cooper and John Nolan in it. I mean just, a completely unbiased position, I mean, it's just better. Just better. [laughs] Everything is better.
OS: There are a lot of veterans out with you guys this year, like New Found Glory, Bayside, and Senses Fail. Is it nice to have bands that broke out around the same time you did on Warped Tour?
MO: Yeah. You know, we're always right next to Bayside and New Found Glory, so they're good dudes, we've known them for a long time, so it makes it nice to, you know, be able to wake up and see people that you know. Friendly faces, smiles, good friends. Good times.