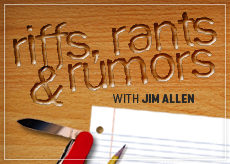 Even if you have only a passing knowledge of ˜80s new wave, it's likely that Thomas Dolby has a place in your heart for lending some class"not to mention the occasional touch of funk"to the burgeoning synth-pop movement with such hits as Hyperactive, Europa and the Pirate Twins, and of course, the ultimate ode to love in a lab coat, She Blinded Me With Science. But if your knowledge of Dolby's career drops off after the ˜80s, it's not because you're uninformed. In fact, Dolby spent much of the ˜90s and ˜00s outside of the music biz, pursuing other electronic interests that we'll get to presently. But now, he's set to release his first album of new material, and we talked with him about that record, A Map of the Floating City, as well as his early output, and got the straight story on Dolby's missing years too.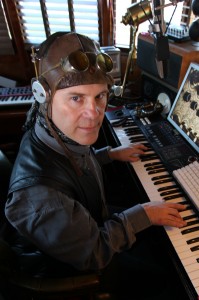 Back in the ˜70s, the electro-pop pioneer was actually a teenage prog fan, worshipping at the altar of arty epics and tricky time signatures. I think many punks were teenage prog rockers, says Dolby. I still remember the outrage that prog rockers felt when punk first came on the scene. When I was fifteen I was into Genesis and Yes and Little Feat and Steely Dan. [Pogues frontman] Shane McGowan, who I was at school with, came in one day and said 'Well, I think The Beatles and the Stones is all shit,' and I remember my sense of outrage. I said, 'Well, Shane, what should we be listening to?' And he said 'Johnny Thunders, MC5, Iggy Pop.' And we'd never heard of any of these people. Of course within a few months we'd all spiked our hair and torn our trousers, and were all down at the 100 club listening to Siouxsie & The Banshees or The Clash."
Even after trading his bellbottoms for leather pants, though, Dolby still gravitated naturally towards the brainier end of the British new wave, idolizing XTC to an obsessive degree. I used to follow them around in the early punk days, he admits. XTC came along and they had the energy of punk, but they had a musical intelligence to go along with it, so obviously that was a revelation to me. I knew their songs inside out, and I remember being in front of the stage, in front of Barry Andrews, their keyboard player, hoping that he would get hit by a tram or something, and they'd have to go ˜Is there anyone in the house that knows our keyboard parts?' and I could leap up on stage.
Before that opportunity arose, though, Dolby began making his own way in the music world, working with other artists at first, from Bruce Wooley & The Camera Club to Lene Lovich. He released his first single in 1981, and his 1982 debut album, The Golden Age of Wireless, made him a success straight out of the gate. The sophistication of Dolby's songwriting put him at the forefront of artists working with the new musical toolkit the ˜80s brought along, and even today he's often associated exclusively with an era when he recalls providing an alternative to a lot of hair bands and a lot of AOR, noting The irony of it is that if you listen to my first album¦a lot of the songs are a three-piece band with additional keyboards. I was a big fan of early Talking Heads, and a couple of songs have that kind of vibe to them.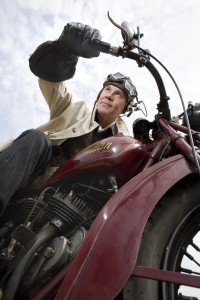 Nevertheless, he still embraces his early recordings. I do feel very strongly connected to them. There's very little that I would choose to redo or delete. I guess, like anyone else in the ˜80s, I fell prey to some trends and sounds of the moment. Some were of my own making, some were just the flavor du jour, but overall I think my early stuff still stands up fairly well because of the substance behind the songwriting. There are some artists that transcend the era that they're from; I think of anyone from Steely Dan to Kraftwerk to Van Morrison or Joni Mitchell, all of whom have influenced me very strongly. You wouldn't catch any of them going out on a ˜70s revival tour¦the contribution they made spanned a wider spectrum than that.
However, Dolby found himself sufficiently dissatisfied with the music industry in the ˜90s to pursue a different course. I thought, ˜I'll take a little sabbatical and go to Silicon Valley and explore my interest in technology,' he recalls. Eventually, he started his own company and created a revolutionary ringtone technology that made a huge splash in the cell phone world, and he created soundtrack music for video games. Dolby found himself a success once more, but in an entirely new context. He could never resist the pull of songwriting for long, though, and the seeds of his upcoming album, A Map Of The Floating City, began to bear fruit. I had some songs that I'd been unable to escape from, he remembers. I needed to get those done, and once I started, I wrote brand new songs. Much of the recording process took place in Dolby's home studio, built inside a lifeboat from the 1930s, which he says looks out over the North Sea and is powered by the wind and the sun.
Perhaps not surprisingly, the songs he recorded in this idyllic setting turned out to be much more acoustic-oriented and balladic than the tunes Dolby is most famous for. The songs from the new album are very organic, he agrees, adding, I'm very influenced by my environment. The inclusion of Dire Straits axeman Mark Knopfler on the track 17 Hills helps lend a rootsy touch as well. I just felt that his style would be a very good complement for the song, explains Dolby. He's a student of American roots music¦I love his lyrical guitar style.
So, with all this earthiness going on, does Dolby still have a soft spot in his heart for the technology of old? Quite frankly, he confesses, a $1.99 iPhone app with a picture of a Mellotron, that sounds pretty close to the real thing, is to me a huge improvement on something that goes out of tune and takes three guys to carry it. But I know purists would probably be outraged to hear me say that. Nevertheless, he can envision a future where even today's cutting-edge digital gear is fetishized as vintage equipment. I think fetishism for the past will always exist, he speculates, but maybe the future will be [about] jacking into the matrix and imagining ourselves in front of our 64k Mac, playing with those old tools. Things go full circle, so it's hard to know where we'll end up.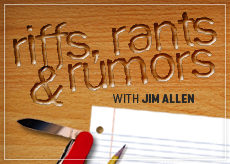 When the surviving members of the New York Dolls first reunited back in 2004 at Morrissey's behest"for a performance at the Meltdown Festival that the former Smiths singer and lifelong Dolls obsessive was curating in London"it was difficult to believe that the seminal band, which had been inactive for nearly thirty years, was storming the stage once again. At the time, suggesting that the Dolls would actually remain together, write new material and become a fresh creative force capable of recording three new albums would have seemed like a flight of sheer fantasy. But seven years later, here we are, greeting the arrival of the post-meltdown Dolls' third release, Dancing Backwards In High Heels (out yesterday on 429 Records). To mark the occasion, we chatted with David Johansen about how it feels to be fronting the Dolls four decades after they first came together.
According to Johansen, Dancing Backwards came together in a short, somewhat frenzied rush of creativity. We rehearsed for like three days, he says, And then we went into the studio for three weeks. It's not really something that you get a chance to sit back and take a look at. By the time you go home at night it's like you don't even want to listen to that stuff, you want to listen to Maria Callas or something, to clear your head.
Whether it was the between-session doses of opera or just the artistic frisson in the air, Johansen and original Dolls guitarist Syl Sylvain came up with a biting batch of tunes for the album. Streetcake, for instance, incorporates everything from Beach Boys-like background vocals to blues idioms, and deftly drops lyrical references to The Orlons, Tommy James and even the Dolls themselves, all into one big pop-culture blender. I think it's a great song, says Johansen. Those different influences, they just get layered on one at a time. Syl had an instrumental version of that song that he had made at his house¦I just thought it was such a"I guess I want to use the word 'confection'"that I guess we wanted to have a lot of pop references in it.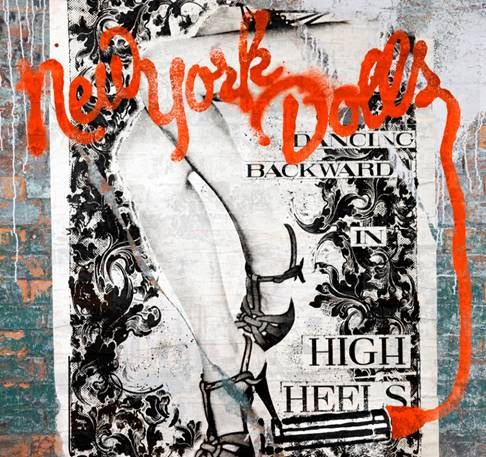 The Dolls have always been emblematic of their hometown's gritty underbelly, and on I'm So Fabulous, they take a pointed poke at the poser arrivists who make life wearisome for real New Yorkers. You could aim it at a lot of different people I guess, figures the feisty Johansen, I know these kids who have this kind of faux Web site called the Upper West Side Style blog, and they take pictures of people on the street, like, wearing Birkenstocks and stuff. I don't know"there's a lot of that stuff going on. It's kind of about how people come to New York and they start making rules, like ˜Where we're from they don't allow smoking in the park,' or something, ˜So we want to have that here.' And it's like ˜Whoa! We're here already.'
The album contains a couple more overt links to the band's past, too. Back in the ˜70s, the Dolls were recording ˜60s R&B covers like Archie Bell & The Drells' Showdown, and Dancing Backwards includes the Dolls' take on The Blue Belles' '62 single I Sold My Heart to the Junkman. It really rocks, Johansen reckons, We had it on a mix tape that we would play before the band plays at shows, and we just kind of always dug it, so we decided to play it. Then we put strings on it, and girls [singing backup], and horns, we threw everything at it. I've known it as long as I can remember; I play it on my radio show on Sirius. The guys even cover themselves, by delivering a new version of Funky But Chic, which opened Johansen's 1978 solo debut album. A lot of people have been telling us we should cut that song for various reasons, the singer explains, Depending on what school they're from, like agents have been saying ˜Oh, if you cut that song we can use it in movies.' It's a song that Syl and I had written for the Dolls originally, and then I recorded it, but one day we just thought ˜Okay, let's play it and see what it sounds like, in the studio, and it rocked pretty good, so it stayed in the mix.
As for Johansen's working relationship with his longtime sidekick Sylvain" the only other original Doll left since bassist Arthur Killer Kane passed away shortly after the Meltdown show" things remain rosy. Syl is like a conduit to this music of the spheres, Johansen enthuses, And it just kind of comes out of him. I really get where he's coming from. We have a lot of the same passions for rock & roll music, and maybe as time goes by we kind of influence each other, like ˜Give this genre another chance and put it into your palette.' We do it really subconsciously. The psyche has so many things that it digs that are floating around in there, and when you're a musician you kind of filter them all through something and it comes out as your own thing. It's not just music, you're bringing politics and philosophy and all kinds of stuff into it. So it's really from the soup of the psyche that you create a song. If you can do it without thinking consciously so much, to me it's successful, and Syl and I seem to have the capacity to do that when we're writing together.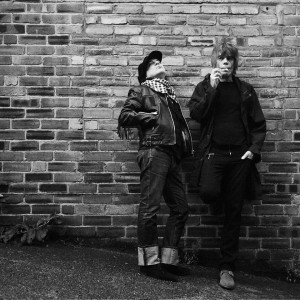 It's Sylvain and Johansen's shared enthusiasm for performing that fuels the band's forward motion as well. We dig playing together, me and Syl, says Johansen, We like going out and doing shows. When we began we were only gonna do one show, it wasn't like we had a plan to be reunited per se. After we did that show we got asked to do some other shows, and we thought ˜Okay, let's do it, because it sounds good and we're having fun.' And then after about a year of that, we decided ˜You know, this is like a band, we should make a record.' If I'm digging it, I'm not really questioning it so much. Life on the road these days is a far cry from the old grind though. Johansen says, In the David Johansen Group, the band I had after the Dolls, I used to be in a van about 287 nights a year, traveling to the next town, and it got kind of tough on my ass. But the way we tour now, we do buses and stuff like that, it's much more livable. At that time, oh God, I felt like I had been run over by a truck half the time.
In the long period between iterations of the Dolls, of course, Johansen has incorporated traditional folk and blues influences into his work, especially with his acoustic-based band The Harry Smiths, named for the creator of the legendary Anthology Of American Folk Music. It turns out those influences remain a part of his musical makeup. As a kid I used to sing those songs, like the Harry Smith kind of songs, recalls Johansen, And I also used to sing Wilson Pickett songs and stuff like that, so even when I was like 15 years old I would have that folk/blues thing going on and also have, like, a dance band. So they're all really strong influences on me. That folk/blues music, to me that's biblical, that's like the Book of Life, and then the other stuff is really rhythmic in a way that I really dig, so I just try to find a way to put it all together. I filter a lot of ideas through those old songs I was listening to when I was growing up, because they nourish me in a metaphysical way.
So, with the Dolls a going concern once again, does Johansen ever allow himself to wonder whether late founding members like Kane or guitarist Johnny Thunders"who died a drug-related death in 1991"would be with the band today if they were still around? Arthur, of course, would, reckons the singer. If John had gotten to a point in his life where he could travel extensively, I'm sure he would too. When you've got your ankle chained to the drugstore it's hard to go anywhere and do stuff, and the thing about being in a rock & roll band is really about moving, and going to a lot of places all the time. I suppose we could have created some kind of long-running Broadway show, he says wryly, And maybe it would have worked out. But it's so hard to speculate on that; you can have an idea with a rosy ending, or you can look at history and face facts. At this, Johansen allows himself a low, world-weary laugh that suggests he's faced his share of facts himself, and is thankful for whatever degree of rosiness currently colors his own existence.