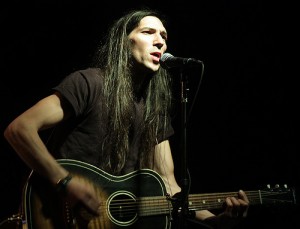 Joel Thibodeau and his one-man project Death Vessel are back with a new album, Island Intervals, which follows 2008's fantastic Nothing Is Precious Enough For Us. Like that record, Island Intervals will be released by Sub Pop. It was recorded with Sigur Rós producer Alex Somers in Reykjavik, Iceland, and features appearances by Jónsi as well as longtime collaborator Pete Donnelly (The Figgs).
We heard the beautiful "Ilsa Drown" at the end of 2012, and now Sub Pop has posted "Mercury Dime," another atmospheric folk stunner. Look for the new record starting February 25th. Both songs are below.
(more…)
This Friday we're following Alice and her cohorts down the rabbit hole with this psychedelic mix. Intern Frankie shares a collection of post rock, electro pop and forest rock artists that are sure to let your imagination run free. Make magic with OurStage artists Sinopsys, Pomplamoose and DASSI, or dream to the sounds of Jónsi, NewVillager and Jinja Safari. Are you ready to dive in?