This year, two high-profile compilations of Buddy Holly cover songs will come out just months apart from one another, each to commemorate what would have been the Buddy Holly's 75th birthday this year. The first of the two albums is last month's nineteen-track compendium of covers, Rave On (Hear Music), featuring covers from a cavalcade of pop stars from yesteryear and today. The impressive list of contributors on Rave On is also its biggest weakness. By including a smidgen from this era and a smidgen from that, the album seems to suggest half a dozen or so vantage points without any of them feel authoritative. What do Paul McCartney, Kid Rock and Julian Casablancas have in common? Rave On's only answer seems to be the vague declaration that they all share a love of Buddy Holly and that love lives on. But what is it about Buddy Holly lives on?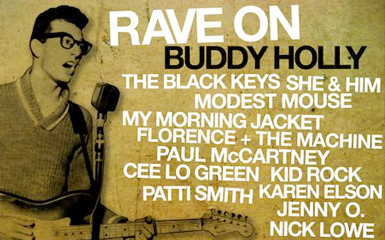 The album's curatorial impulse seems to have been to attach as much star power as possible and thus includes both alta cockers and indie-rockers. It matters because the Buddy Holly that lives on, for the musician, largely hinges on who Buddy Holly was to them in the first place. On this album, we find as many musicians who first encountered Holly via Gary Busey in The Buddy Holly Story or via Weezer's Buddy Holly" song as they did through childhood memories of listening to Holly on vinyl or on the radio. The is a mish-mosh of point of views, with the exception of a few highlights"I'm thinking particularly of Patti Smith's sumptuous take on Words of Love and Julian Casablancas's reverb-rich, garage-inspired, rollicking racket, Rave On"produces more confusion than coherence. McCartney is probably trying to keep up with the youngsters in his quasi-rap-infused version of It's So Easy and Lou Reed's simply moribund take on Peggy Sue feels like he's compensating too much in the other direction. Meanwhile, Cee-Lo channels Elvis as much as Holly in the steel drum-infused (You're So Square) Baby, I Don't Care and Modest Mouse manages to deconstruct That'll Be the Day to the point of unrecognizability. Karen Elson's rollicking Crying, Waiting, Hoping (backed by soon-to-be ex-husband Jack White) suggests an alternative direction the album could have taken: In the denouement of the a garage revival, wouldn't it have been an interesting project for the leading acts of that movement to have paid homage to the father of garage?
Another star-studded compendium of Holly covers hits September 6, this one in cooperation with his widow, Maria Elena. Listen to Me (Songmasters) is another star-studded affair featuring Lyle Lovett, Zooey Deschanel, Stevie Nicks, Cobra Starship and the titular song, Listen to Me by Brian Wilson. It's curious that the record along with Rave On were so inclined to trot out the headliners they did. Isn't Buddy Holly headliner enough?